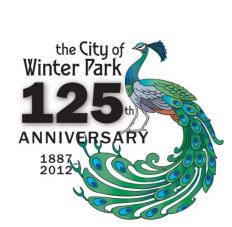 A grand re-opening celebration for Winter Park City Hall will be held Monday, August 27, from 1:30 p.m. to 3:30 p.m. Residents and visitors are invited to join city officials for the festivities which will include a special ceremony at 1:45 p.m., live music and refreshments. City Hall is located at 401 South Park Avenue in downtown Winter Park.
During their strategic planning session in April 2011, the City Commission decided to renovate City Hall with necessary improvements to serve the city for at least the next 10 years. This renovation which coincides with the city's 125th anniversary was made possible by a stimulus grant from the federal government intended to make city buildings more energy-efficient. In addition to providing a more welcoming, customer-friendly environment for city staff to greet residents and visitors, the renovation includes new lighting and heating, ventilation and air conditioning systems.
The exterior of City Hall was also renovated to create a more welcoming and attractive vista for guests and those passing by. The retention area between City Hall and Park Avenue was relocated to allow for the installation of a large, inviting public lawn which is shaded by a magnificent live oak. Sprinkled throughout the property is an emphasis on seasonal color with flowering trees framing and accenting the open views across the newly expanded lawn. Vibrant, annual flower beds and clusters of colorful, potted accent groupings finish off the new look.
"On behalf of the City Commission and management, thank you to everyone who participated in making this renovation possible. Thank you also to our residents and visitors for their patience during the entire transformation process." said City Manager Randy Knight.
For additional information regarding Winter Park, please visit the city's official website at cityofwinterpark.org or call the main information line at 407-599-3399.