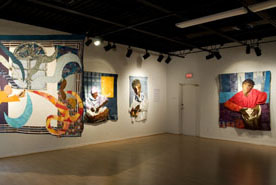 June 5
Crealdé 40th Anniversary Homecoming Exhibition Opening Reception
Crealdé-inspired artists who have taken classes here in the not too recent past and who have moved on to become exhibiting professional artists share current work and stories of how their artistic careers were influenced through experiences at the school. This exhibition is curated by Barbara Tiffany, Director, Painting & Drawing and Chair, Crealdé Gallery Committee. The opening reception Friday, June 5, coincides with the Annual Membership Meeting, from 7-7:30 p.m., followed by a reception until 9:30 p.m. The exhibition continues through August 15.
June 19
St. Augustine at 450: A Crealdé Documentary Project Opening Reception at Hannibal Square Heritage Center
The Photography Department, during a special master class, produced this exhibition of photographs and oral histories of the oldest city in the United States during its anniversary year. The exhibition examines the city's past, its preservation efforts and its place as a tourist destination, college town and home to a diverse population. Produced and curated by documentary photographers and faculty members Peter Schreyer and Sherri Bunye. Reception 7-9 p.m. Friday, June 19. The exhibition continues through August 29.
June 26 – Crealdé Photography Guild presents Sherri Bunye in a discussion of her experiences teaching Crealdé's Storytellers Teen Documentary Project. Join us on the last Friday of the month to share time with people that have a passion for photography. Presentations are 7:30 p.m. to 9 p.m. in the Showalter Hughes Community Gallery, Crealdé School of Art, 600 St. Andrews Blvd., Winter Park, FL 32792. For information, call 407-671-1886, or visit www.crealde.org. All events are free and Crealdé membership is encouraged.