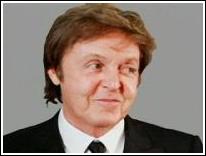 A rock-and-roll legend was in Central Florida on Thursday, September 1, 2011.
The Beatles band member Paul McCartney was seen in Winter Park on the campus of Rollins College and on Park Avenue.
Click Here to read original story.
McCartney wasn't on the campus of Rollins College for long. The school wouldn't comment on what he was doing there or how long he spent on campus.
But McCartney did spend some time dining on Park Avenue. The tables and booths at Luma on Park looked pretty much the same except for something special about one tucked in the corner.
Table No. 40 as it is known by the staff will now be known as the spot Paul McCartney sat and quietly dined with a group of friends.
"It was really cool to see someone like him in person," Luma General Manager Tim Noelke said.
Noelke wouldn't give up too many secrets about the surprise McCartney visit. He was part of a 7 p.m. dinner reservation for nine people,including his fiancee Nancy Shevell.
"They kind of did a family style at the table. They did a lot of pizzas and pastas and salads, and they all just kind of shared," Noelke said.
McCartney didn't go unnoticed. People who passed the restaurant tried to catch a glimpse.
There were no photos or autographs for the Luma staff, but there was a quick thanks.
"At the end of his dinner, he did come up, shook his hand and told me what a great experience he had and thanked me. I thanked him, and then he left," Noelke said.
When he left, restaurant staff said he was greeted by a small crowd outside the restaurant. He apparently didn't sign autographs, but waved quickly before getting into a car.
The restaurant wouldn't say how much McCartney and his party spent on the meal.