Whole Foods Market Winter Park is more than just a grocery store, it's an experience! They have the most abundant organic produce selection in Central Florida, with a minimum of 80 organic fresh fruits and vegetables daily. Whole Foods Market Winter Park is located on the corner of Aloma and Lakemont Avenues in Winter Park, Florida, a city at the northeast edge of Orlando.

Here are 10 Reasons to Shop at Whole Foods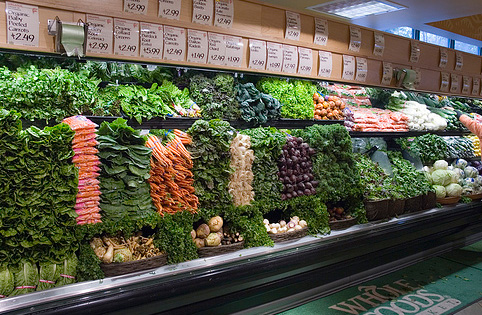 1. Organic
Whole Foods Market has a large selection of organic produce that has been grown and handled according to strict procedures without persistent toxic chemical inputs. At Whole Foods can expect to choose from a large selection of both Organic and local produce that looks and taste great.
2. Quality Standards
Whole Foods has high standards with food that contain ingredients they deem unacceptable. This helps ensure you have a large selection of safe and quality food to choose from. To see their Unacceptable Ingredients list click here.
3. Labeling GMO Products
Whole Foods Market is working hard and have committed to having labeling for all GMO products by 2018. Many will be labeled ahead of this timeline, and they will be keeping you informed about the process as they go.
4. Animal Welfare Standards
Whole Foods Market works with the Global Animal Partnership to certify their producers' animal welfare practices. They have rolled out their 5-Step™ Animal Welfare Rating Standards in every Whole Foods Market store in the United States and Canada.
5. Body Care Standards
Look for products with the Premium Body Care symbol and you will find the best there is. These products meet the strictest standards for quality sourcing, environmental impact, results and safety. See more here.
6. Gluten Free
More and more people are suffering from a gluten intolerance. Whole Foods Market makers is easier than ever to maintain a gluten-free lifestyle with the wealth of available information, products and support. They have a large selection of gluten free products in their stores.
7. Selection
The Whole Foods Market stores are large and they offer everything from fabulous, fresh flowers and in-house baked breads to a great selection of prepared foods and top quality meat and seafood. You have a large selection of everything you can think off.
8. Seafood & Meat
Whole Foods Market is committed to purchasing seafood from the best-managed fisheries and farms, and they are working hard to turn the tide in the direction of greater sustainability. Their local stores have a full-service seafood counter and well stocked natural meat case making it easy to find the perfect centerpiece to your meal. The wine, cheese and beer corner is a local favorite, boasting the best selection of specialty cheeses in the area and hundreds of unique wines.
9. Store Sales
Each local store has regular savings, promotions and coupons. You can bargain shop and enjoy sure deals.
10. Resources
Whole Foods Market's website is FULL of resources, support and information. If you have any questions you can contact your local store or find information on their website.
Click Here for more information on Winter Park's local Whole Foods Market store.
| | |
| --- | --- |
| Did you enjoy this article? | Related Posts |