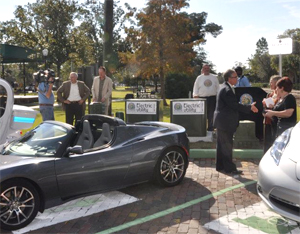 Tickets for 2014 Winter Park Concours d'Elegance now available through AAA
Winter Park, FL (Oct. 14, 2014) –Central Florida residents and car enthusiasts can now purchase discounted tickets for the thirteenth annual Winter Park (FL) Concours d'Elegance, in Winter Park, Sunday, Nov. 16, 2014, at AAA's online ticket sales site http://www.AAA.com/FUN or by visiting or calling any local AAA office in Central Florida.
AAA Members can save three dollars off the retail prices of $20 Adult and $10 child (4-10).
The Winter Park Concours motoring event features some of the most highly-regarded, judged classic and exotic cars in the United States will be staged 10 a.m. – 4 p.m., Sunday, Nov 16, 2014 on the grounds of Winter Park Country Club, located on the north side of Winter Park's popular Park Avenue shopping district.
Since its inception in 2002, the Winter Park Concours has become one of the most prestigious ranked exotic classic car shows in the United States.
The 2014 Winter Park Concours will display more than 160 of the world's most prestigious automobiles, climaxing three days of related classic auto events throughout the metropolitan Orlando area. Attendees will be able to enjoy close-up access to individual autos and auto groupings for viewing and exclusive photo opportunities, enjoy live music, and select from food and beverage offerings by some of Central Florida region's most popular food vendors.
Regular ticket prices for the Winter Park Concours are $20 for adults (11 and older) and $10 for children (4-10). There is no admission charge for children three and younger. Information: www.winterparkconcours.com.
AAA members can purchase discounted tickets at Central Florida AAA offices or online at http://www.AAA.com/FUN.
# # #
Media contacts:
Tim Webber, 407-649-9190, Tim@winterparkconcours.com
| | |
| --- | --- |
| Did you enjoy this article? | Related Posts |