Some enchanted evening : the Songs of Rodgers & Hammerstein
Spend an evening harkening to the days of sophistication in the intimate setting of the No Exit Cafe and celebrate the 20th Century Broadway icons and giants of musical theatre, Richard Rodgers and Oscar Hammerstein. Featuring a collection of 34 well-loved songs from Broadway classics that have forever defined the genre including Carousel, Cinderella, The King and I, Oklahoma, South Pacific, The Sound of Music and more!
Ticket Pricing:
$42 Evening
$39 Senior Evening (62 and over)
$32 Matinee
$15 Student (11-25 years old)
$15 Industry (Entertainment Professional)
Note: Student and Industry must show ID. Special Rates: $20 Thursday Night & Friday Matinee Preview (Opening Week)
Fee: $15 – $42
Date :
SHOWTIMES:
Week 8/3/17 – Thur @ 2 p.m., Fri & Sat @ 2 & 7:30 p.m., Sun @ 2 p.m.
Week 8/10/17 – Thur @ 2 p.m., Fri & Sat @ 2 & 7:30 p.m., Sun @ 2 p.m.
Week 8/17/17 – Thurs @ 2 p.m., Fri @ 7:30 p.m., Sat @ 2 & 7:30 p.m., Sun @ 2 p.m.
Event location:
Winter Park Playhouse
711 Orange Ave. Suite C
Winter Park, FL 32789 United States
Contact :
Phone call: 407-645-0145
Website: http://www.winterparkplayhouse.org/
…………………………………………………………………………………
Coffee Talk featuring Commissioner Greg Seidel
If you have a latté beans to grind or you simply want to espresso your thoughts, CoffeeTalk may be the cup for you. This free, popular CoffeeTalk series gives the community an opportunity to sit down and talk with the Mayor, City Commissioners, and City Manager over a cup of coffee provided by Barnie's Coffee Kitchen. CoffeeTalk provides a more informal setting to share ideas, concerns and thoughts with city leaders. We hope to see you at CoffeeTalk!
Date :
Thursday, August 10, 2017 from 9 to 10 am

Event location:
Winter Park Welcome Center
151 W. Lyman Ave.
Winter Park, FL 32789 United States
Contact :
Phone contact: 407-644-8281
Website: https://cityofwinterpark.org/visitors/welcome-center-and-chamber-of-commerce/
…………………………………………………………………………………
Winter Park Sunday Running Group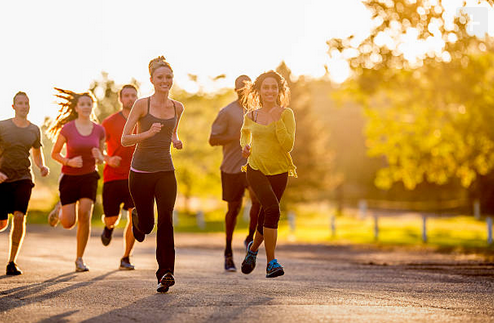 The Winter Park Sunday Running Group has been a source of pleasant running experiences and friendships for hundreds of runners over 40 years. We encourage and welcome runners of all ages and speeds to join us on the course which offers exceptional scenery throughout Winter Park. The most popular distances range from five to ten miles, but the course easily accommodates shorter loops of three or four miles. It is our policy to ensure that people new to the group are warmly welcomed and that they do not get lost on the course.
Date :
Sundays, August 6,13,20,27, 2017 at 7 a.m – Weekly on the same day
Event location:
Park Avenue & Welbourne Avenue
Winter Park, FL 32789 United States
Contact :
Email : jackgallagher534@gmail.com
Website: http://www.orlandorunnersclub.org/about-this-theme
…………………………………………………………………………………
Popcorn Flicks in the Park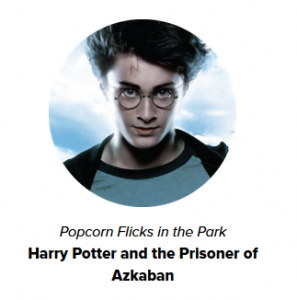 featuring "Harry Potter and the Prisoner of Azkaban"
This film is a part of Popcorn Flicks series, which takes place in Central Park, Winter Park once a month and it's FREE and open to the public!
Harry Potter's (Daniel Radcliffe) third year at Hogwarts starts off badly when he learns deranged killer Sirius Black (Gary Oldman) has escaped from Azkaban prison and is bent on murdering the teenage wizard. While Hermione's (Emma Watson) cat torments Ron's (Rupert Grint) sickly rat, causing a rift among the trio, a swarm of nasty Dementors is sent to protect the school from Black. A mysterious new teacher helps Harry learn to defend himself, but what is his secret tie to Sirius Black?
Presented by Winter Park CRA and produced by Enzian Theater. This film series features classic films for the whole family. We encourage you to bring a blanket, a picnic or snacks, and some family and friends and join us. Free popcorn for everyone!
Date :
Thursday, August 10, 2017 from 8 to 10 pm

Event location:
Central Park main stage
Park Avenue & Garfield Avenue
Winter Park, FL 32789 United States
Contact :
Phone contact: 407-629-0054
Website: http://enzian.org/films/special-programs/popcorn-flicks/
…………………………………………………………………………………
Florida Festival of New Musicals
The Winter Park Playhouse has jumped into the national spotlight as it launches the 1st Annual Florida Festival of New Musicals, a nationally-recognized festival new to the state and the nation. The Festival has been created to advance and elevate the original American art form of musical theatre by fostering the development of new musicals and the artistic growth of writers and composers. The festival will run August 24-27, 2017.
The Florida Festival of New Musicals is a 4-day event that will showcase six brand new, never-before-produced musical works and connect writers and composers with professional producers and directors. The first act of each selected musical will be fully read and sung concert-style, without staging, by varying casts of professional actors and musicians.
The festival is led by Playhouse Artistic Director Roy Alan. It will be the first of its kind in the region, similar to musical theatre festivals featuring new works that take place in New York City, Seattle, Chicago, Washington D.C. and Los Angeles. It will provide a unique insight into how a new musical comes to life.
New musical submissions from writers and composers around the country were accepted between September and December 2016. Each submitted application was read, evaluated and critiqued by a panel of industry professionals. The panel made their final selection of six musicals in May 2017. Along with members of the artistic community, the general public is encouraged and invited to attend and be engaged in this unique and exciting theatrical experience.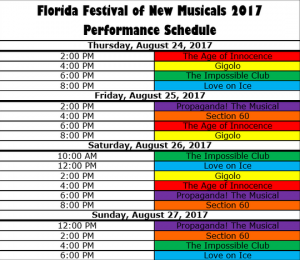 Tickets are $10 per new musical or $50 for a 6-show Festival Fun Pass.
Date :
Thursday, August 24 to Sunday, August 27, 2017

Event location:
711 Orange Avenue, Suites B & C,
Winter Park, FL 32789
Contact :
E-mail: mail@winterparkplayhouse.org
…………………………………………………………………………………
| | |
| --- | --- |
| Did you enjoy this article? | Related Posts |