Happy Labour day!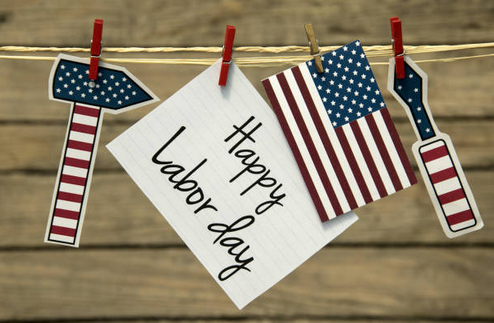 Labour Day (Labor Day in the United States) is an annual holiday to celebrate the achievements of workers. For most countries, Labour Day is synonymous with, or linked with, International Workers' Day, which occurs on 1 May.
In Canada and the United States, Labour Day is celebrated on the first Monday of September and considered the unofficial end of summer, with summer vacations ending and students returning to school around then.
The form for the celebration of Labor Day was outlined in the first proposal for the holiday: A street parade to exhibit to the public "the strength and esprit de corps of the trade and labor organizations", followed by a festival for the workers and their friends and families. This became the pattern for Labor Day celebrations. Speeches by prominent men and women were introduced later, as more emphasis was placed upon the civil significance of the holiday. Still later, by a resolution of the American Federation of Labor convention of 1909, the Sunday preceding Labor Day was adopted as Labor Sunday and dedicated to the spiritual and educational aspects of the Labor movement.
Labor Day is called the "unofficial end of summer" because it marks the end of the cultural summer season. Many take their two-week vacations during the two weeks ending Labor Day weekend. Many fall activities, such as school and sports begin about this time.
Date :
Monday, September 4, 2017 | all day
Event location :
Winter Park, FL
…………………………………………………………………………………
Winter Park Sunday Running Group

The Winter Park Sunday Running Group has been a source of pleasant running experiences and friendships for hundreds of runners over 40 years. We encourage and welcome runners of all ages and speeds to join us on the course which offers exceptional scenery throughout Winter Park. The most popular distances range from five to ten miles, but the course easily accommodates shorter loops of three or four miles. It is our policy to ensure that people new to the group are warmly welcomed and that they do not get lost on the course.
Date :
Sundays, September 3, 10,17,24, 2017 at 7 a.m – Weekly on the same day
Event location:
Park Avenue & Welbourne Avenue
Winter Park, FL 32789 United States
Contact :
Email : jackgallagher534@gmail.com
Website: http://www.orlandorunnersclub.org/about-this-theme
…………………………………………………………………………………
Sip, Shop & Stroll – September Edition
The Winter Park Chamber of Commerce and Park Avenue Merchants Association invite you to sip, stroll and experience the charm of Park Avenue. Spend the evening on a unique wine walk and stroll to your favorite Park Avenue area shops and restaurants. Discover new merchants, check out the latest fashions, gift ideas and seasonal menus. Enjoy wine and hors d'oeuvres along the way.
Tickets
Tickets are $25 each and reservations are strongly encouraged as the event often sells out in advance. Tickets will not be mailed, confirmations will be emailed for registrations submitted through PayPal. Online registration will close at noon on Thursday, September 14, or earlier in the event of a sell out.
Check-in will be held at at the corner of Park Avenue and Morse Boulevard on September 14, beginning at 5:00 p.m. Attendees will receive their wine glass and passport at check-in. Guests must check-in by 7 p.m.
Date :
Thursday, September 14, 2017 | 5 to 8 pm
Event location:
W Morse Blvd, Winter Park,
FL 32789, United States
Contact :
Winter Park Chamber of Commerce
151 West Lyman Avenue
Winter Park, FL 32789
Phone contact: +1 407-644-8281
Website: http://www.winterpark.org/
…………………………………………………………………………………
Popcorn Flicks in the Park presents "the spy who loved me"
Roger Moore Tribute Film
This film is a part of our Popcorn Flicks series, which takes place in Central Park, Winter Park once a month and it's FREE and open to the public!
In a globe-trotting assignment that has him skiing off the edges of cliffs and driving a car deep underwater, British super-spy James Bond (Roger Moore) unites with sexy Russian agent Anya Amasova (Barbara Bach) to defeat megalomaniac shipping magnate Karl Stromberg (Curt Jurgens), who is threatening to destroy New York City with nuclear weapons. Bond's most deadly adversary on the case is Stromberg's henchman, Jaws (Richard Kiel), a seven-foot giant with terrifying steel teeth.
Date :
Thursday, September 14, 2017 from 8 to 10 pm

Event location:
Central Park main stage
Park Avenue & Garfield Avenue
Winter Park, FL 32789 United States
Contact :
Phone contact: 407-629-0054
Website: http://enzian.org/films/special-programs/popcorn-flicks/
…………………………………………………………………………………
Spotlight Cabaret Series with Janine Klein

Janine Klein returns to The Winter Park Playhouse Spotlight Cabaret Series with her latest debut solo cabaret. Playhouse patrons will remember Janine from her previous cabaret, Let's Fall In Love, and Mainstage performances of Ruthless! and Isn't It Romantic? A Tribute to Rodgers & Hart. Playhouse Musical Director Christopher Leavy will accompany on the piano. These popular cabarets sell out quickly so get your tickets today!
This unique form of entertainment showcases a different professional singer each month up front in the beautiful lobby bar. A truly "New York-style" cabaret, each performance is approximately 55 minutes in length with no intermission. Doors open at 6:30pm for General Seating.
$20 General Admission (1 drink minimum) $10 Standing Room Only *Please note: Standing Room Only tickets will not be sold until all the General Admission tickets are sold out.
After choosing the number of tickets needed, you will be asked to choose a drink option ($8 premium alcohol, $6 standard alcohol, $3 non-alcohol) prior to purchase.
Date :
Wednesday, September 20, 2017 at 7:30 pm
Thursday, September 21, 2017 at 7:30 pm
Wednesday, September 27, 2017 at 7:30 pm
Thursday, September 28, 2017 at 7:30 pm
Event location:
Winter Park Playhouse
711 Orange Ave. Suite C
Winter Park, FL 32789 United States
Contact :
Phone contact: 407-645-0145
Website: http://www.winterparkplayhouse.org/
…………………………………………………………………………………
Book discussion: the case against Sugar
"The Case Against Sugar," by Gary Taubes, one of America's most honored science writers. The author takes a hard look at the role of sugar in our diet and an even harder look at the economic and political forces working to keep it there. In his view, sugar is the tobacco of the 21st century, a dangerous substance that is making us all sick.
Date :
Monday, September 25, 2017 from 1 to 2 pm
Event location:
University Club of Winter Park
841 North Park Ave.
Winter Park, FL 32789 United States
Contact :
Phone contact: 407-644-6149
E-mail: info@uclubwp.org
Website: http://www.uclubwp.org/
| | |
| --- | --- |
| Did you enjoy this article? | Related Posts |