Haunted Walks In Gananoque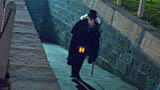 Learn about Gananoque Ontario's ghosts and legends on the Gananoque Haunted Walk Tour – Part of the Haunted Walks Inc.
This tour departs from the Gananoque Visitor Centre at 10 King Street East. On this tour, explore this historic town and the surrounding 1000 Islands' ghost ships, pirate raids, and the mysterious fate of Gananoque's founder. This tour will entertain and delight groups of all ages. The Gananoque walking tours are 90 minutes in length and take in 12 stops, including one at the Gananoque Boat Lines office on the waterfront. It is said that the The Gananoque Boat Lines office is filled with sounds of wailing, footsteps and a feeling of unease. None of the stories are exaggerated and several years of research have gone into each tour.
Ghost stories are prevalent in Gananoque. But in order to find about them in detail you will have to take the tour.
Visit the Haunted Walk Tour at www.hauntedwalk.com.
Until this day various houses in the town of Gananoque have been reported haunted and there have been reports of a man wondering the grounds in and around the Gananoque Cemetery. This is the ghost story of Frank Edwards who suffered from shell shock after the war of 1812. A film based on this true event is set for production in the year 2012.
Another great ghost legend in Gananoque is Bolt Castle. Bolt Castle is both romantic and haunting. Gilded Age multi-millionaire George Boldt ordered the castle built as a testimonial of his love for his wife, Louise. But Louise died, and the grand stone estate was abandoned for many years. Bolt Castle is restored now, but you can still hear the lovers' footsteps in the long, echoing corridors.