Once In A Lifetime Event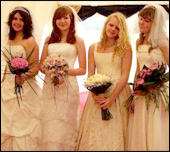 Date: Saturday September 18th 2010
Time: 5:00 p.m.
Location: Italo-Canadian Club, 1174 Italia Lane, Kingston, Ontario
I am an out of the box thinker and I enjoy doing things differently. I wanted to provide a really unique event for women who have had the same desire as I have had to wear my wedding dress again. There is nothing like your wedding day! It's a day that you will remember for the rest of your life. It's a day that you strive to look your very best and ultimately it's a day that you feel your very best. To quote Lisa Ray from K-Rock, this event is to celebrate your dress!
In this day and age with our busy lifestyles, this event is an opportunity for all of us to take one day out of the year to getting dressed up, celebrating our wedding gowns and having a ton of fun. It's so easy to get lost in our everyday roles and responsibilities. This event is about having fun, being with friends, making some great memories and supporting a great charity.
In preparation for this event I have had hopes of inspiring women to focus on their everyday health and happiness by being reminded of their wedding day and what they did to look and feel their very best for that day. I wanted to create this Once In A Lifetime Event to be able to recreate those memories and feelings for women and men. My goal is to make this an annual event to keep women motivated to stay in shape by eating healthy and exercising plenty to maintain the size they were when they got married. I used this event to motivate myself to get 60 pounds off my body after back to back pregnancies when I found myself out of shape with too much weight on me. As my husband can agree with me, it's not easy losing weight and it's even harder losing post- natal "baby weight"- for both parents : ) Body Now 4 Mums & Kids was approached to donate some of the prizes at this event for the very reason that Tracie Smith Beyak, the owner of BN4M&K's, specializes in fitness for kid! s and pre and post-natal fitness for mothers & grandmothers. BN4M&K's was my saving grace for getting my extra weight off.
Through pursuing my dreams by making this Once In A Lifetime Event successful, I hope to inspire others to pursue their dreams. Over the last year I have learned the importance of pursuing your dreams, no matter how big or small. We only get to live once and sometimes the only person holding you back from achieving your dreams is you.
Samuel Smith from Samuel G. Smith Photography will be there to capture all the fun and unique photo's. This can be your second chance at getting professional photo's in your wedding gown as well as having a unique picture with all of your girlfriends in their wedding gowns. This event is being powered by Sound FX Productions- your trusted event partner. Fruitilicious has donated all the fruit to the midnight buffet as well as Cards Bakery and Bruno Iacconi at the Italiano-Canadian Club have all graciously reduced their prices in order for me to provide tickets to this event at such a reasonable cost. Bridal Creations has been phenomenal in their support offering a discount on their chair covers and actually providing a donation of a tuxedo for Rick Chomo who will be along side Lisa Ray from K-Rock as the hosts for this event and they have donated more than a dozen vests and tie's for a group of men that will be attending. Th! is is a non-profit event with all proceeds going to the K-Rock, Kids for Kids Charity.
Last but not least, this event is about having fun!!!!! I like many, many women have cleaned and boxed my dress to "preserve it". I always had the intention of taking it out of the box and wearing it again and finally I will get to do that. What really is the point of boxing and storing your gown? What are you boxing and storing it for? Wedding dresses become outdated! Take it out of the box, free it from preservation and start celebrating it! Most likely it is your most expensive piece of clothing so start enjoying once a year beginning with this Once In A Lifetime Event.
We have prizes that have been generously donated by Body Now 4 Mums & Kids, The Raging Bull and KuTe Photography for the Newly Wed, Not So Newly Wed game and for various other games. We have a lot of single and dating individuals coming to this event because this event is about celebrating Life, Love and Happiness for everyone.
Celebrating Life, Love and Happiness for Everyone! It doesn't matter if you are single, dating and/or married with children. The fun aspect of this gathering is that it is a Black and White Attire Event in which you get the opportunity to wear your wedding dress again. If you do not have a wedding dress or you do not want to wear your wedding dress come anyways to support the Kids for Kids in Kingston as a portion of the ticket price is going towards this annual campaign.
The meal includes Bread & Butter, Mixed Green Salad, Home Made Chicken Kiev, Roasted Potatoes, Fresh Vegetables, Coffee/Tea and a Delicious Cupcake from Card's Bakery. The children's plate includes Bread and Butter, Mixed Green Salad, Chicken Nuggets, French Fries, Ice Cream as well as a Card's Bakery Cupcake.
This special evening includes chair covers, table decorations , a DJ, a photographer and a midnight buffet. For fun there will be awards for the oldest wedding gown, puffiest shoulders on the wedding gown, biggest age difference between a couple, longest train, longest veil, most recent newlyweds, funniest wedding story. Prizes have been generously provided by Body Now 4 Mums & Kids,, The Raging Bull & KuTe Photography.
Tickets prices are $44.00 for an adult & $17.50 for a child.
Please contact Kerri Tadeu at ktadeu@cogeco.ca or 613-539-1312. To purchase tickets please RSVP in order to confirm the number of guests attending.