Winter on the Avenue
The Winter Park Chamber of Commerce and the City of Winter Park are proud to host "Winter on the Avenue," a kickoff to the holiday season presented by Westminster Winter Park. The holiday street party will include a flurry of activities from 5 to 10 p.m. along Park Avenue and in Central Park. The annual tree lighting ceremony will be broadcast live at 5:15 p.m. on WFTV Channel 9, and will include performances by children's choirs, and children's activities. Bring the entire family for a night of holiday cheer to this free event!
Date :
Friday, December 2, 2016 from 5:15 pm to 10 pm
Event location :
Central Park
Park Avenue & Morse Boulevard
Winter Park, FL 32789 United States
…………………………………………………………………………………………………………..
Holiday Ice Skating Rink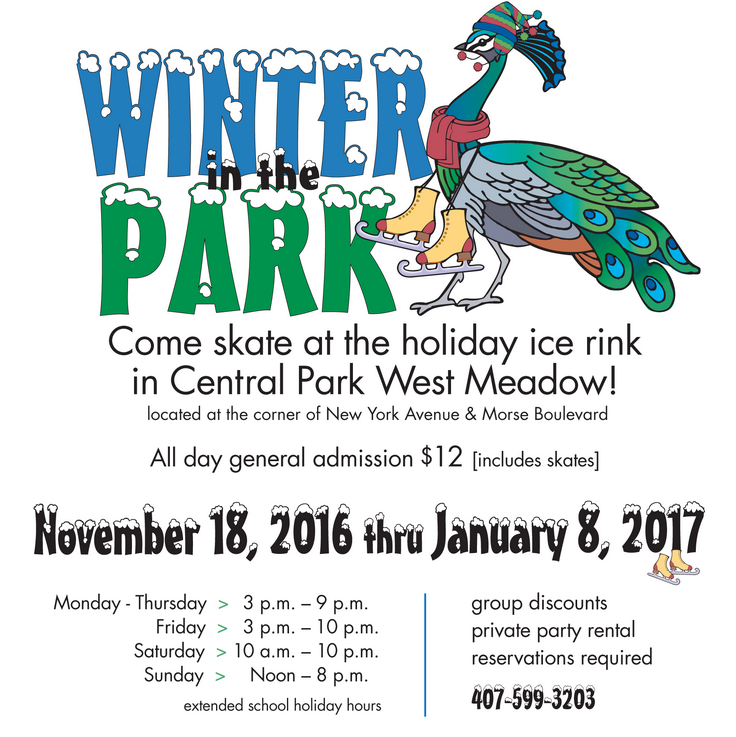 The City of Winter Park will bundle up once again for "Winter in the Park," the city's annual holiday ice skating rink in Central Park West Meadow. Snowflakes of all ages and skill levels are invited to chill out as they glide, spin and turn! Snow angels are invited to skate all day and admission includes skate rental.
Holiday music, games, carolers and so much more will flurry around you as you enjoy "Winter in the Park" during these hours:
Monday through Thursday  ›  3 p.m. to 9 p.m.
Friday  ›  3 p.m. to 10 p.m.
Saturday  ›  10 a.m. to 10 p.m.
Sunday  ›  Noon to 8 p.m.
For a blizzard of 20 or more people, cool group discounts are available. If you are interested in bringing your whole igloo to celebrate birthdays, special events, private parties or corporate holiday gatherings, the rink is available for rental opportunities. Advance reservations are required for private party/groups to avoid an icy avalanche of skaters at the rink.
Date :
Saturday, December 3 to Saturday, December 31, 2016
Event location :
Central Park West Meadow in Downtown Winter Park
New York Avenue & Morse Boulevard
Winter Park, FL 32789 United States
Contact :
Please call at (407) 599-3334 or
visit https://cityofwinterpark.org/departments/parks-recreation/parks-playgrounds/central-park/ for more info
…………………………………………………………………………………………………………..
Winter Park Sunday Running Group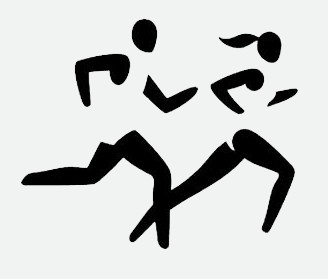 The Winter Park Sunday Running Group has been a source of pleasant running experiences and friendships for hundreds of runners over 40 years. We encourage and welcome runners of all ages and speeds to join us on the course which offers exceptional scenery throughout Winter Park.
The most popular distances range from five to ten miles, but the course easily accommodates shorter loops of three or four miles. It is our policy to ensure that people new to the group are warmly welcomed and that they do not get lost on the course.
Date:
Sunday, December 4,11,18,25 2016 at 7 am
Where?
Park Avenue & Welbourne
Winter Park
Website:
https://cityofwinterpark.org/event/sunday-running-group/2016-08-07/
…………………………………………………………………………………………………………..
21st annual Merry Tuba Christmas

Enjoy the rich sounds of Christmas as tuba, euphonium, sousaphone & baritone players of all ages gather in Central Park to perform a FREE concert from the main stage beginning at 1 p.m.
Winter Park's 21st annual Merry Tuba Christmas is a free one-hour concert that has become a staple on the holiday list of things to do. Take a break from shopping on the Avenue, and relax with loved ones to enjoy this annual event.
Registration is $10 for musicians and begins at 9 a.m. with rehearsal running from 10 am to 11:30 a.m. For more information please call 407-599-3463.
Date :
Saturday, December 17, 2016 @ 1 pm
Event location :
Central Park main stage
Park Avenue & Garfield Avenue
Winter Park, FL 32789 United States
Contact :
More info at www.gailrobertson.com
…………………………………………………………………………………………………………..
Christmas Day

Many Christians in Canada mark the birth of Jesus Christ on December 25, which is known as Christmas Day. It is a day of celebration when many Canadians exchange gifts and enjoy festive meals.
Many Canadians have a day off work on December 25 and many spend the day with close relatives or friends. It is customary to exchange gifts, enjoy a special festive meal and, perhaps, attend a special church service.
The traditions centered on Christmas gifts in Canada vary a lot between families. In some families, a mythical figure called Santa Claus brings gifts. He travels on a sleigh pulled by reindeer, enters homes via the chimney and leaves presents and candy in Christmas stockings or in a pile under the Christmas tree.
Symbols of Christmas Day
There are many symbols of Christmas. These include images of baby Jesus and the Holy family in the stable, stars and Christmas trees. Another important symbol of Christmas is Santa Claus. This is a mythical figure with origins in European, particularly British, Dutch and German, cultures. He is a jolly man who wears a red suit, has a long white beard, lives at the North Pole and travels in a sleigh pulled by reindeer.
Date :
Sunday, December 25, 2016
…………………………………………………………………………………………………………..