The Hungry Planet Pop-Up Fundraiser 2018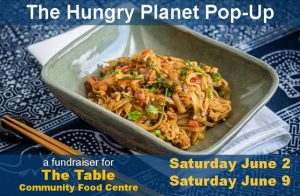 On Saturday, June 2nd and Saturday, June 9th The Table will be hosting the Hungry Planet Pop-Up, 2018 edition!
If you missed it last year, this is about the return of one of Perth's all-time favourite restaurants – The Hungry Planet. Judy will be cooking most of the Hungry Planet's original menu! These special "pop-up" events are a fundraiser for The Table Community Food Centre's community meals program which offers free, nutritious and delicious meals three times a week!
The pop-ups will run from 11:30 a.m. to 5:00 p.m. on each day, and orders must be made in advance and service will be take-out only.
All main dishes will be priced at $25.
Orders for Saturday June 2nd call between Monday May 28th at 9am through Friday June 1st at 5pm.
Orders for Saturday June 9th, call between Monday June 4th at 9am through Friday June 8th at 5pm.
Payment by cash only.
Date :
Saturday, June 2, 2018 from 11:30am to 5pm
Event location :
The Table Community Food Centre – 190 Gore Street East, Perth, ON K7H 1K3
Contact :
Phone number: 613-267-0484
E-mail:
Website: http://thetablecfc.org/
———————————————————
Perth Farmer's Market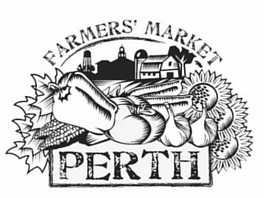 The PERTH FARMERS' MARKET opens for business on Saturday, May 12th, 2018. It operates from 8am to 1pm, every Saturday between Mother's Day and Thanksgiving weekends. Vendors will have local, organic and in-season fruit and vegetables, , as well as flowers and bedding plants, honey, maple syrup, preserves, baking, ready-to-eat food items and freezer meat. Crafters will provide a variety of local, handmade items inside the Palace. Enjoy breakfast in the Basin beside the Tay River. Entertainment on special weekends.
Date :
Saturdays, June 2,9,16,23,30 2018 from 8am to 1pm
Event location :
Crystal Palace, 31 Basin Lane
Contact : Sarah McKenzie
Phone number: 613-284-0578
E-mail: sarebmac@gmail.com
Website: http://www.perthfarmersmarket.ca/
———————————————————
2018 Perth Triathlon

The Annual Perth Triathlon will take place on June 3rd, 2018.
This event has been a tradition in Perth for over 17 years and features either a 500m pool swim, 16K bike and 3K run or participants can also choose to "double the distance" and make it a 1000m, 32K & 6K experience! New this year is the "Sport X Earl Challenge" which features back to back double and single distances! You can also participate as a 3-person team in the single distance. This is a low key fun event. We want to encourage newcomers to the sport and welcome new & past participants!
Bikes are to be racked in transition (pool parking lot) by 7:15. Please check in at registration for body marking and swim waves. Athlete's meeting 7:20, waves to start approximately 7:30 starting with the double distance.We will be manually timing this event so it is important that we see your number! Bike and run courses are out and back. All participants will receive a medal for participating.
There will be a pot luck lunch following the events. Please remember to bring a food item (salad, main dish, sandwiches, veggies, dessert). We will be continuing the tradition of awarding homemade pies and cookies to the top finishers in each age group.**_All proceeds will be donated to the Perth & District Indoor Pool and Perth Stingrays Aquatic Club
Date :
Sunday, June 3, 2018 from 7am to 1pm
Event location :
3 Sunset Blvd, Perth, ON K7H, Canada
Contact :
Website: http://perthtriathlon.blogspot.com/
———————————————————
Men on the Tay Concert


The Men of the Tay Concert will be taking place on June 4th, 2018 at the St. James Anglican Church in Perth.
The Men of the Tay was formed in the winter of 2000. A group of 12 men met each week to simply sing and enjoy each other's company. It was a wonderful time spent together gathered around a piano in the living room, with borrowed music and a few harmonic attempts. It was in the fall of 2002 that the idea of doing something more began and soon the chorus began to grow and expand and actually emerged to perform for the general public.
Now approaching 36 members, it has remained true to its ideals … to come together and sing. Concerts and performances are secondary to the opportunity to work together, to learn about music and to enjoy each other's company.The chorus attempts to obtain the best music published for the male chorus at its level. It has a wide range of music: from Broadway, to Folk Songs, to Church and even comedy numbers. The chorus could be singing Doo-Wop and then turn around and work in Latin. It is all part of the experience of being a member.
The Men of the Tay meets each Monday from the second or third week of September to the second week of June. The rehearsals start at 7:00 PM and end promptly at 9:00 PM.
Rehearsals are held in the sanctuary at St. James the Apostle (Anglican) Church, 12 Harvey Street Perth, Ontario K7H 1W4. Both choirs normally recess from the end of their Christmas Concert through to the last week of January. The return date flexes a bit depending on the availability of the music, rehearsal space and other membership / music concerns.
Date :
Monday, June 4, 2018
Event location :
St. James Anglican Church
12 Harvey Street, Perth, ON K7H 1W4
Contact : E-mail: musicofthetay@gmail.com
Website: http://www.musicofthetay.org/
———————————————————
Perth's Citizen's Band Concert

A series of Summer Pops Concerts at the Perth Legion that continues on throughout the summer! All concerts are FREE to the public and are held in historic Stewart Park just behind the Perth Town Hall.
The Perth Citizens' Band has been an integral part of the musical and cultural heritage of the Town of Perth since 1852 and is the oldest continuously operating band in Canada. The continuity of the band from 1852 has been recorded in a book entitled, " Sound the Trumpet " written by local archivist, Daphne Overhill, published in 2002.
The free concerts in Stewart Park are performed every other Thursday at 7:30 PM starting in the second week of June through the third week of August and include a Strawberry Social starting at 7 PM for the second concert. The band does a number of parades throughout the year including the Perth Fair Parade, parades for various local celebrations in other towns and typically four Santa Claus Parades in various towns. A major part of the bands funding for operating expenses comes from these parades. The band also does an annual Christmas concert, an annual " Last Night At The Proms Concert " plus a number of other concerts during each year.
Date :
Thursday, June 7, 2018 at 7:30 pm
Event location :
Stewart Park Bandstand – 80 Gore Street East, Perth, ON
Contact :
E-mail: rmsgardiner@hotmail.com
Website: www.perthband.ca
———————————————————
Charley's Aunt by Brandon Thomas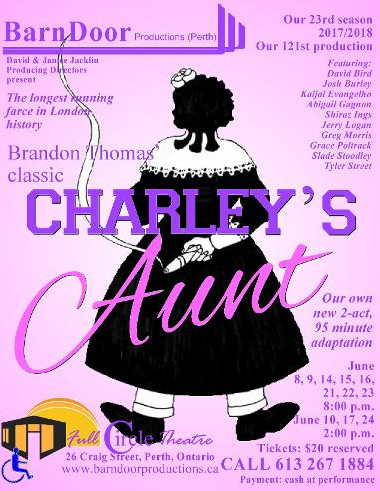 BarnDoor Productions Presents: Charley's Aunt starting on June 8th, 2018 at the Full Circle Theatre in Perth.
Charley's Aunt is the longest running farce in London history. It opened THREE YEARS before The Importance of Being Earnest and was still running after Earnest closed.
It's a "chestnut" in the best sense of the word: always reliable, always warm, always familiar — and still very funny.
Jack and Charley want to ask their girls to tea to propose to them (oh, it's very proper!) and use the excuse of Charley's aunt coming to visit to make it right. But, when the venerable lady ("from Brazil, where the nuts come from!") can't come, the lads enlist the aid of their chum Babs to impersonate the aunt. Complications, needless to say, arise.
Please click here to order tickets: https://www.barndoorproductions.ca/single-event-orders.php
Date :
Friday, June 8, 2018
Event location :
Full Circle Theatre – 26 Craig Street, Perth Ontario
Contact :
Website: https://www.barndoorproductions.ca/
———————————————————
Bootleg Creedence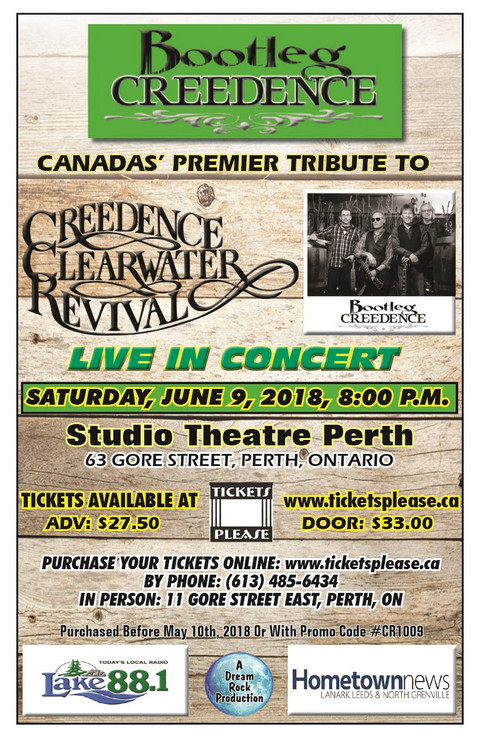 Date :
Saturday, June 9, 2018 at 8pm
Event location :
63 Gore Street East, Unit 2 – Perth, ON K7H 1H8
Contact :
Phone number: 613-267-7469
E-mail: enquiries@studiotheatreperth.com
Website: http://studiotheatreperth.com
———————————————————
Stewart Park Festival

Mark your calendars for June 16th, 2018 for the Stewart Park Festival Kick-off to Summer Dance!
This year's Kick-Off to Summer party, hosted by Stewart Park Festival, will be bigger than ever. So big, in fact, that it will take place on two different evenings.
On Saturday, June 16, the Festival will hold its annual Kick-Off to Summer Dance, this year featuring Big Bob Hammond & the Mississauga Delta Blues Band playing the best of the legendary Blues Brothers, the dynamic duo put together by comedy actors Dan Aykroyd and John Belushi as part of their musical sketch on Saturday Night Live.
Real life brothers Stan and Bob Hammond from Peterborough, Ontario, are steeped in the tradition of old Chicago and the tale of Jake and Elwood Blues the two brothers who set out on "a mission from God" to save the orphanage in which they grew up.
Tickets for the dance are $20 + $2.00 service fee in advance at Shadowfax, 67 Foster St. Perth, or by calling 1-800-518-2729 or $25 at the door.
For those coming from out-of-town for the dance be sure to book your room at the Best Western Plus Perth Parkside Inn & Spa where your special room rate will also include two free tickets to the dance.
And that's not all! This year's Kick-Off to Summer party will start with a Movie Night at the Crystal Palace in Perth on the Thursday prior to the dance (June 14). It will feature the original 1980 Blues Brothers movie playing on a giant screen, provided by the Together Smiths Falls, the organization responsible for Movies Under the Stars. There will be a canteen, complete with hot-dogs, popcorn and more, as well as a licenced bar hosted by local favourites Perth Brewery and Top Shelf Distillers.
The first 30 people through the door on Movie Night will receive a free Blues Brothers' hat & glasses (to get them ready for the dance). Doors open at 8:00 pm, with the movie beginning at dusk. Movie Night is free for those with a dance ticket or $5.00 at the door.
Kick-Off to Summer is back! A party so big it takes 2 nights to get'er done.
Dance tickets available at Shadowfax, 67 Foster St. Perth or online at www.shadowfax.on.ca
Date :
Saturday, June 16, 2018 at 8pm
Event location :
Crystal Palace, Perth, Ontario
Contact :
Phone number:
E-mail:
Website: http://www.stewartparkfestival.com/
———————————————————
Art in the Garden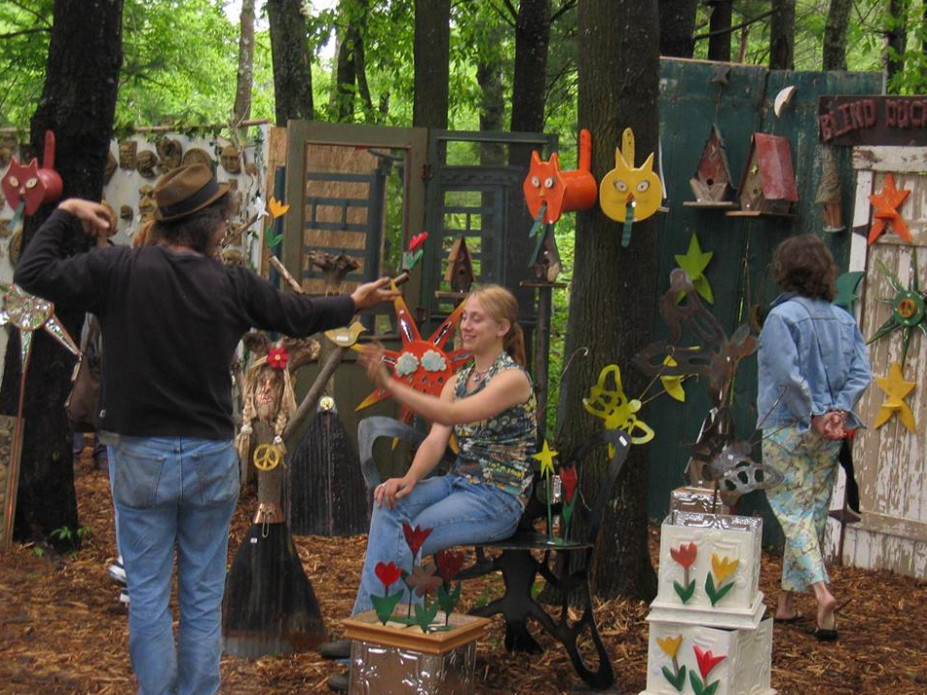 Art in the Garden being held on June 16th & 17th, 2018 showcases artists and crafts people among the extensive and mature display beds at Kiwi Gardens. Stroll through the walkways and exotic plantings to find all handmade works of art. On display are such items as garden sculptures obelisks and arbours blown glass outdoor furniture wind chimes pottery and various other pieces of unique garden art. The pieces are made from a tremendous range of materials including wood wrought iron concrete resins glass and steel. This premiere garden show compliments the day with tasty food and beverages live music and plenty of benches to rest and enjoy the view.
Kiwi's Retail Nursery is open throughout the weekend for those in search of a new addition or two to their own garden. Parking is available on the site and the admission fee is $5.00 per person.
Pets on a leash are welcome.
Date :
Saturday, June 16 to Sunday, June 17, 2018 from 9am to 5pm
Event location :
Kiwi Gardens – 687 Harper Road, Perth, ON K7H 3C9
Contact :
Phone number: 613-267-7384
E-mail:
Website: www.kiwigardens.ca
———————————————————
Happy Father's Day!

Father's Day is an occasion to mark and celebrate the contribution that your own father has made to your life. Many people send or give cards or gifts to their fathers. It is a relatively modern holiday so different families have a range of traditions. Father's Day is not a federal public holiday in Canada. It falls on a Sunday, which is a day off for many workers so many offices and stores are closed. However, some shopping precincts and stores, as well as restaurants, cafes and entertainment venues, may be particularly busy on Father's Day.
There are some suggestions that the idea of Father's Day may originate in pagan sun worship. Some branches of paganism see the Sun as the father of the universe. The June solstice occurs around the same time of year as Father's Day so some people saw a link between the two.
The idea of a special day to honor fathers and celebrate fatherhood was introduced from the United States. A woman called Sonora Smart Dodd was inspired by the American Mother's Day celebrations and planned a day to honor fathers early in the 20th century. The first Father's Day was celebrated in Spokane, Washington on June 19, 1910.
In the United States, there are a range of events, which may have inspired the idea of Father's Day. One of these was the start of the Mother's Day tradition in the first decade of the 20th century. Another was a memorial service held in 1908 for a large group of men, many of them fathers, who were killed in a mining accident in Monongah, West Virginia in December 1907.
Date :
Sunday, June 17, 2018
———————————————————
Perth Brewery World Record Kilt Run

Now in its 9th year and with Perth Brewery as the major sponsor, the Perth World's Kilt Run continues to be a major attraction, drawing thousands of visitors to the town to race or cheer.
Order your kilt when you register and join in this authentic and ever popular kilted 5 mile / 8 km race that passes through the historic stone streetscapes of Perth and across the spectacular Tay River.
Highlights include a Pipe Band March to the castle starting gate, street bands, cheering stations and so much more! Spectators will be thrilled with the Wee Lads and Lassies races sponsored by Mackie's Crisps, the much-anticipated Haggis Toss Competition, live Celtic music, face painting, and Perth Brewery beer all afternoon!
Date :
Saturday, June 23, 2018
Event location :
Downtown Perth – 80 Gore Street East, Perth, ON
Contact :
Website: https://www.facebook.com/perthworldrecordkiltrun/ or  raceroster.com/perthkiltrun218
———————————————————
Perth Through the Ages

NEW STORIES EVERY YEAR!

This historic walking play takes you through the streets of Heritage Perth, meeting the stories and the characters from the Town's rich past.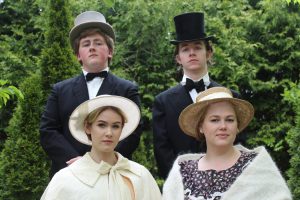 Perth through the Ages is a historic theatrical walking tour, presented by the Classic Theatre Festival from June 27th to August 26th, 2018. Beginning at Matheson House Museum every Wed. to Sun. at 11am, our all-ages walking tour celebrates Perth's past!
Every Wed. to Sun. at 11am
June 27 to August 26, 2018
TICKETS:
Adults: $15 per person
($12 per person for Classic Theatre Festival ticketholders; proof of purchase required)
Children aged 12 and under: 50% off Adult Price
Date :
Wednesday, June 27, 2018
Event location :
Matheson House Museum – 11 Gore Street East, Perth, ON
Contact :
Phone number: 1-877-283-1283
E-mail: info@classictheatre.ca
Website: http://www.classictheatre.ca/
———————————————————
On Golden Pound

Heartwarming play On Golden Pond opens June 28 at Studio Theatre.
Some stories are timeless, because they're founded on human truths that never change. They draw from the raw materials of our lives — love, family, longing, jealousy, fear of the future. And the older we get, the more we see ourselves in these wise, enduring narratives.
When the film On Golden Pond opened in theatres in 1981 — yes, 37 years ago — it struck a chord that still resonates across generations. On June 28th, our generation — whether we're young, old, or somewhere in the middle — will once again be able to experience the heart and humour of On Golden Pond when the stage play opens at the Studio Theatre in Perth.
On Golden Pond premieres at the Studio Theatre on Thursday, June 28th for seven performances, June 28, 29, 30, and July 5, 6 and 7 at 7:30 pm, and July 8 at 2 pm.
Advance tickets are $24 at Tickets Please in the Matheson House Museum Visitor Centre, 11 Gore St. E. (613 485-6434; ticketsplease.ca; in-store, phone, online and credit card purchases) and at the Studio Theatre box office on show nights. Rush tickets for Students with ID are just $10 at the door, subject to availability. Attend opening night and save $5!
Date :
Thursday, June 28 to Saturday, June 30,2018
Event location :
63 Gore Street East, Unit 2 – Perth, ON K7H 1H8
Contact :
Phone number: 613-267-7469
E-mail: enquiries@studiotheatreperth.com
Website: http://studiotheatreperth.com/on-golden-pond/
———————————————————