History of Perth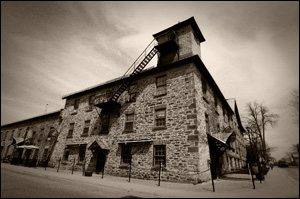 The town of Perth Ontario was established as a military settlement in 1816, shortly after the War of 1812. Many of the first settlers were military veterans on half pay, while others were immigrants from Scotland or Ireland. Many of the Scottish immigrants were stonemasons; their work can be seen in many area buildings and in the locks of the Rideau Canal.
The first secretary/stores-keeper (and eventually postmaster and superintendent) of the settlement was Daniel Daverne, brought up from the Quarter Masters General Department in Kingston, Ontario to assume these positions.
Perth is home to Canada's oldest pioneer burial ground, St. Paul's United Church Cemetery, formerly The Old Methodist Burying Ground.
Near the town is the home of world show jumping champion Ian Millar and Millar Brooke Farm where his great horse Big Ben (1976-1999) is buried. The town has erected a bronze life-sized statue of the horse and Ian Millar, in Stewart Park, across from the Code's Mill building.
This town was the site of the last fatal duel in Canada. Robert Lyon, a law student, was killed on June 13, 1833 after an argument with a former friend, John Wilson.
Perth is also the site of the first installation of a telephone other than Bell's experimental installations. A town dentist, Dr. J. F. Kennedy and friend of Alexander Graham Bell installed a direct telephone connection between his home and office. By 1887, there were 19 telephones in Perth, with a switchboard in Dr. Kennedy's office.
In 1893 a 22,000 pound cheese known as the 'Mammoth Cheese' was produced in Perth to be exhibited in Chicago at the World's Columbian Exposition to promote Canadian Cheese around the world.