Christmas Trees in Chrystal Palace
Crystal Palace in Perth open for viewing decorated Christmas Trees. Sponsored by the BIA, the Town of Perth, and the Perth and District Chamber of Commerce.
Date :
Thursday, December 14 to Saturday, December 16, 2017 at 7pm
Thursday, December 21 to Saturday, December 23, 2017
Tuesday, December 26 to Saturday, December 30, 2017
Event location :
Perth, ON
Contact :
Shannon Baillon
Phone contact: 267-3311
E-mail: sbaillon@perth.ca
………………………………………………………………………………….
Wrapping Paper Party
Bring your Christmas presents into the brewery and will will wrap them for you. All donations for wrapping that day will be used to buy presents for needy children in our area.
Date :
Saturday, December 16th, 2017 at 12pm
Event location :
Railcar Brewing Company, 694 Perth Main Street, Perth, Canada
Contact :
Railcar Brewing Company
………………………………………………………………………………….
Perth Citizen's Band Annual Christmas Concert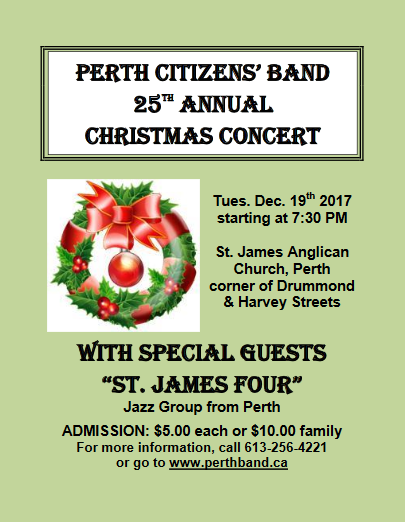 The Perth Citizens' Band will be holding its Annual Christmas Concert on Tuesday December 19th, 2017 starting at 7:30PM. This year marks the 25th annual year of the event, which once again will be held at St. James Anglican Church, at the corner of Drummond and Harvey Street in Perth.  The long standing tradition of the Christmas Concert at the church was revived in 1993 by conductor Brian Tackaberry.
From the 1920s to 1940s the band had previously played concerts during the Christmas season.  Guests for this year's event will be Perth's Town Crier Brent McLaren, and The St. James Four.  The St. James' Four hails from Perth and bring you familiar but fresh sounding jazz from an earlier era. It features Val Leavitt on piano, Peter Woodwark on stand-up bass, Rebecca Worden as vocalist and on clarinet and Jim Wright as drummer.
The Annual Christmas Concert will feature a variety of sacred and popular tunes for all ages.  Admission for the evening is $5 per person or $10 for families.
Date :
Tuesday, December 19th, 2017 at 7:30pm
Event location :
St.James Anglican Church, Perth
corner of Drummond & Harvey Stre
Contact :
Megan Gardiner
E-mail: rmsgardiner@hotmail.com
Website: http://www.perthband.ca/
………………………………………………………………………………….
Perth Civitan Club Christmas Bingo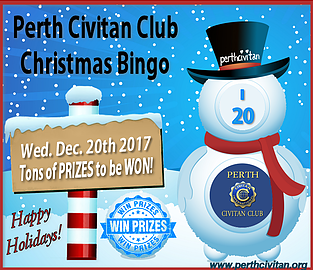 Tons of Prizes!
Christmas Bake Sale Table & Christmas Cakes for Sale!
Date :
Wednesday, December 20th, 2017
Event location :
6787 County Road 43
Drummond Township
Contact :
Phone contact: 613-267-2181
Perth Civitan Club
………………………………………………………………………………….
Jingle Boots
Get some bells on your boots for Splash'N Boots first BIG Holiday Show: Jingle Boots! Join all your favourite characters: Splash, Boots, Charlie, Keys (…and visits from Jumping Jack Granny and Chef Brock Lee!) for the first ever Yellow and Blue Festive Sing-Along and Dance Party. Featuring holiday favourites, and songs from their hit TV show, The Big Yellow Boot.  Get ready to dance, laugh and create new holiday memories at this interactive show for the whole family!
Please bring a non-perishable food item for Chef Brock-Lee's Food Bank – items will be donated to the local Food Bank!
Pricing (includes convenience fee):
VIP includes: premium seating in the first few rows, a meet and greet with
Splash and Boots after the show and a special gift! $48.50
Remaining seats: $23.50
No charge for babes in arms under 12 months.
Tickets will be held at the door. Or pick them up at Tickets Please up to the day before the performance.
Date :
Saturday, December 23, 2017 – 2pm
Event location :
Studio Theatre, Perth
Contact :
Box Office Management of for tickets
………………………………………………………………………………….
Free Skate

Free skating sponsored by Norwood on Sunday, Perth Fire Fighters on Saturdays and by the Town of Perth.
Date :
Saturday, December 23 to Sunday, December 24, 2017 | 12pm to 1:30pm
Event location :
Perth Arena
Contact :
Shannon Baillon
………………………………………………………………………………….
New Year's Eve with The Brockolees
Come out to the Farrell Hall in Perth and bring in 2018 with the valley's greatest party band! Tickets are $15 in advance, $20 at the door.
For tickets, contact the Farrell Hall at 613 267 7895 or visit The Imperial at 27 Wilson St in Perth.
Date :
Sunday, December 31, 2017 – 8pm
Event location :
Farrell hall, Perth, Canada
Contact :
The Brockolees
………………………………………………………………………………….
Perth Civitan New Year's Eve Dance with Eddy & The Stingrays

$30.00 per person
Tickets are $30 per person.
Let's Rock and Roll into 2018 with Eddy & The Stingrays as they return for their 4th year.
Anyone interested in tickets, please call Civitan Carol Buchanan at 613-267-1475.
Please Note: No tickets will be reserved or sold at the door so do not delay as tickets sellout fast!
Let's bring in the New Year Together *Eddystyle* !
​Attention~ e-transfers for tickets are accepted by emailing: robinson.wendy@hotmail.ca
Date :
Sunday, December 31, 2017 | 8pm to 1 am
Event location :
Perth, ON, Canada
………………………………………………………………………………….