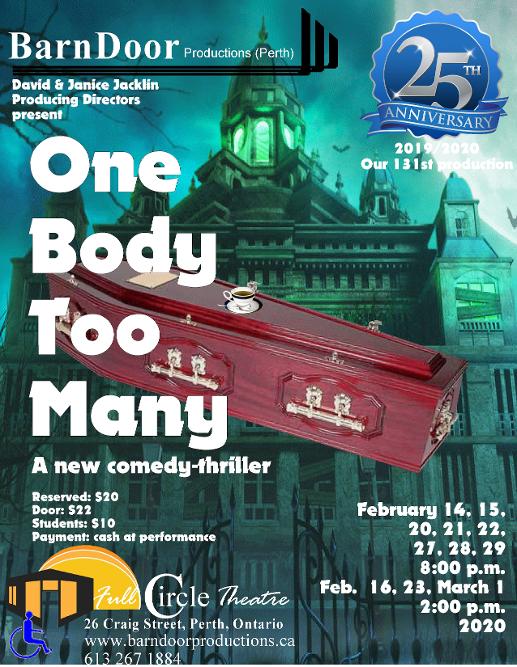 Barn Door Productions presents ONE BODY TOO MANY at Full Circle Theatre, February 14, 15, 20, 21, 22, 27, 28, 29 at 8pm, and February 16, 23 and March 1 at 2pm.
A silly haunted-house romp based on a 1944 movie. Originally written as a vehicle for Jack Hailey (aka Oz's Tin Man). Cyrus J. Rutherford, a screwball… sorry, eccentric millionaire, dies and his heirs gather to split up the loot. Instead, they end up splitting heirs. Then brave insurance agent Albert Tuttle solves the mysteries and sorts out the mess – and, of course, finds romance along the way. This is just silly, silly fun that will heat up the February chills and get the 10W40 winter blood flowing.
Reserved tickets $20; Door $22; Student $10. Payment by cash at performance.
Date :
Friday, Feb.14, 2020 from 8pm to 9:30pm
Other dates:
Saturday, Feb.15, 2020 from 8pm – 9:30pm
Sunday, Feb.16, 2020 from 2pm – 3:30pm
Thursday, Feb.20, 2020 from 8pm – 9:30pm
Friday, Feb.21, 2020 from 8pm – 9:30pm
Saturday, Feb.22, 2020 from 8pm – 9:30pm
Event location :
26 Craig St., Perth
Contact :
Barn Door Productions at 613-267-1884
Website: http://www.barndoorproductions.ca/