There are several great ways to celebration the season in the Rideau Lakes. Starting with the Lower Beverley Lake Park lights. Take a magical sleigh ride inside Lower Beverley Lake Park and enjoy the 10s of 1000s of sparkling festive lights announcing the joys of this winter season. Open Saturdays beginning November 19, 2011 and running throughout December, your breath will be taken away with this wonderful transformation!
Beverley Lake Park is located at 146 Lower Beverley Lake Road, Delta, Ontario.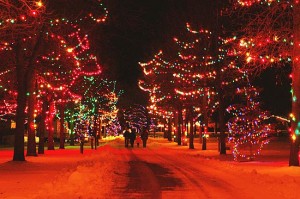 Then on November 26, 2011 join the Village of Delta as they celebrate this festive season in an old-fashioned sleigh ride and evening of carols, lights, decorations, entertainment and refreshments. Call Pat Phillips for info 613-928-2712.
The following day, November 25, 2011 village residents, neighbours and visitors are all welcome to Elgin to enjoy a walk-about the Village as travellers begin at one Church, light Christmas lights, begin the narrative of the Christmas Story, visit more community sites, sing carols, light more lights and end up together at the Community Hall for refreshments and celebration of the Holy Season. All begins at 7:00pm. Contact Pastor Bob at 613-359-6118 for more information.
On December 3rd, there is the Athens Parade of Light starting at 7pm on the main street of Athens. Last but not least, you can celebrate the season at the Old Stone Mill starting November 19th and each Saturday to December 17th during Celebrating the Season come and visit the Delta Mill and Museum for a tour.
Come out to one or all of these events to celebrate the most wonderful time of the year!