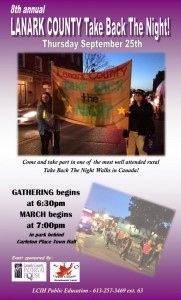 For the past several years Carleton Place has been host to one of the most well-attended rural Take Back the Night Marches in Canada. Even on the soggiest of nights local residents turn out with their banners and noise-makers in record numbers. All to demand that a woman's right to walk our streets safely be upheld.
This year's event will be held on Thursday, September 25th. The gathering begins at 6:30 in the park behind Carleton Place town hall, with the rally and march set to begin at 7pm. This is a family friendly event for all to join!! We hope to see you there!! For inquiries, contact the Public Education Coordinator at 613-257-3469 ext 63. or visit www.lcih.org/events
The Take Back The Night, march, an event that focuses on ending violence against women. Take Back the Night events take place across North America. They are designed to raise the awareness of safety issues for women and children. This march protests harassment, sexual abuse, and assault.
Date: September 24th 2015
Time: 6:30 p.m. – 8:00 p.m.
Place: Carleton Place Town Hall
Cost: FREE