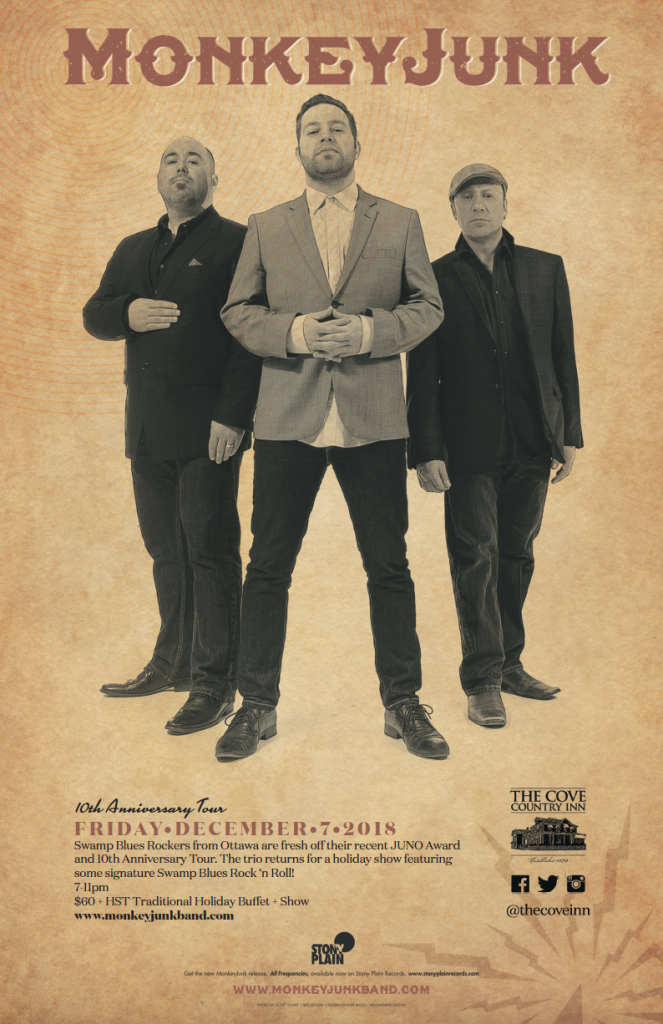 Ace Canadian Blues-Rockers MonkeyJunk Celebrate 10 Years With Thrilling #MJ10 Tour
The trio, whose career-best fifth album Time To Roll recently netted their second Juno Award, prepares to travel from east to west this spring and summer, visiting key venues and festivals in between…
Ottawa's ace swamp roots-rockers MonkeyJunk — fêting 10 triumphant years together in 2018 — are preparing to lift lids from Saskatoon to Sault Ste Marie, Thunder Bay to Nanaimo, as they hit the highway supporting their scorching, career-best Time To Roll album. Audiences will be dazzled.
Winner of 2018's Blues Album of the Year Juno Award (their second overall), the latest and fifth release from singer/guitarist and harp player Steve Marriner, drummer Matt Sobb, and guitarist Tony D is precisely the kind of corker you'd expect from a trio of musical veterans who, between them, have boosted luminaries from Fabulous Thunderbird Kim Wilson to Buddy Guy, the late Jeff Healey to the lamented Stevie Ray Vaughan.
Launched in Ottawa in 2008, MonkeyJunk —handle inspired by delta blues great Son House, who once intoned, "I'm talking about the blues, I ain't talking 'bout no monkeyjunk!" — have consistently updated contemporary blues with a blistering mix of chops, soul, grit, humour and harmony.
MonkeyJunk has won a collective 21 Maple Blues Awards, two Canadian Independent Music Awards, a Blues Music Award (USA) in 2010 for best new artist debut (Tiger In Your Tank), and have been nominated three times for a JUNO Award, winning the award twice for Blues Album of the Year in 2012 for To Behold and in 2018 for Time To Roll.
"The name MonkeyJunk comes from Son House, who once said 'I'm talking about the blues, I ain't talking 'bout no monkeyjunk.' But I am going to talk about MonkeyJunk – they are brilliant and have produced one of the best albums I have heard in a long time…; Ten tracks that prove that this Canadian band is here to stay. And as Son House would have said if he had seen these boys: 'I'm talking 'bout the blues, I'm talking about MonkeyJunk!'" – Bob Boncey, Blues Matters (UK)
Cost: $60.
Date :
December 7 @ 7:00 pm – 11:00 pm
Event location :
The Cove
2 Bedford St.
Westport, Ontario K0G 1X0 Canada
Contact :
http://www.coveinn.com/