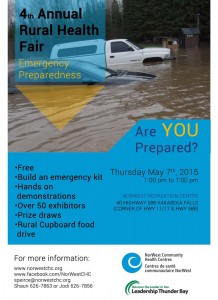 On Thursday, May 7th, come to the Thunder Bay Emergency Preparedness Fair. The fair starts at 1pm at the Norwest Recreation Centre, 40 Highway 588 Kakabeka Falls.
Learn everything you need to know about local emergency services and preparedness. You'll learn how to build an emergency preparedness kit, participate in hands-on demonstrations, and donate to the local food drive. Speak with over 50 local vendors about services and products that can help you and your family prepare for the worst environmental and weather related disasters.
Come out to the 4th Annual Rural Health Fair, you'll be glad that you did. You'll even be registered for door prizes!
See you there May 7th!