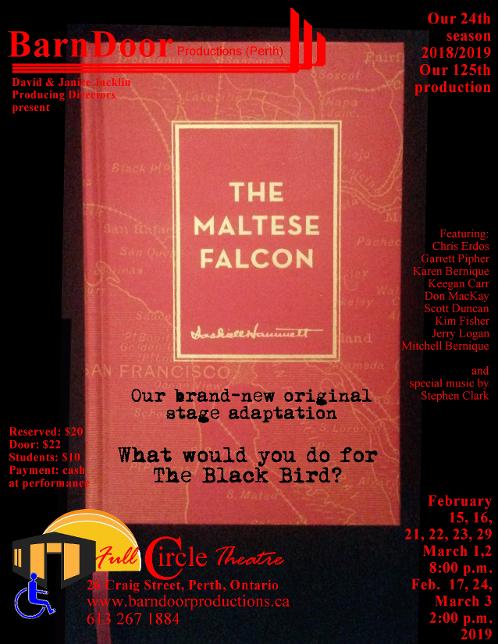 a new play based on
Dashiell Hammett's famous novel
Sam Spade is a womanizing, down-on-his-luck private eye, going nowhere fast — until a dangerous young woman walks into his life — and his partner is murdered.
The quintessential "hard-boiled detective" story, The Maltese Falcon is known around the world — but this new stage adaptation brings even more excitement and mystery to the story.
Almost word-for-word from Hammett's novel, it's a trip down film noir alley — for the stage!
CAST: 5 men – 3 women
NARRATOR/GUTMAN – Chris Erdos
SAM SPADE – Garrett Pipher
EFFIE PERINE – Karen Bernique
BRIGID O'SHAUGHNESSY – Keegan Carr
MILES ARCHER, LT. DUNDY, Freed, Bryan – Don MacKay
DETECTIVE TOM POLHAUS, Luke, Jacobi – Scott Duncan
IVA ARCHER – Kim Fisher
JOEL CAIRO – Jerry Logan
WILMER COOK – Mitchell Bernique
Date :
February 15, 16, 21, 22, 23, 28 at 8:00 p.m.
February 17, 24, at 2:00 p.m.
Event location :
Full Circle Theatre
26, Craig Street, Perth, ON
Contact :
Website: https://www.barndoorproductions.ca