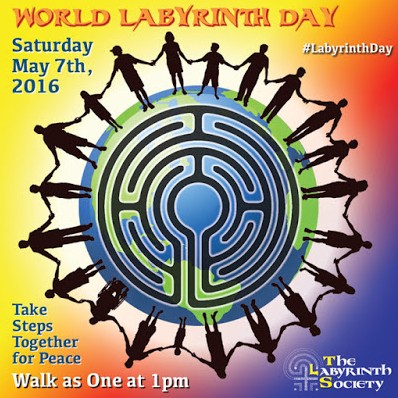 In recognition of World Labyrinth Day a global celebration of all labyrinths join us as we 'Walk as One at One' along the grassy path of the recently constructed community labyrinth. Volunteer members of the Labyrinth Committee will be available with information about the history & benefits of walking the labyrinth.
If you are new to the labyrinth experience, this Saturday walk will be a perfect introduction for you. Information about the history, benefits and unique aspects of the labyrinth will be available onsite.
By walking a labyrinth, we are rediscovering an ancient tradition, which is still relevant today. Unlike a maze, a labyrinth is designed as a single path. There are no dead-ends or tricks. The path on which you enter is the same path on which you exit. A walker is free to focus on a thought or a prayer, or to simply enjoy the energy of the walk itself. Many walkers find that the circular pattern holds them in a type of walking meditation long enough to let their problems and worries fall away. In a busy world, walking a labyrinth can provide an opportunity to foster connection, support healing, and promote well-being.
The Community Labyrinth is located at the corner of George and Baines Streets, beside the Carleton Place & Beckwith Heritage Museum. The stone-bordered grassy path is the focal point for Labyrinth Park, a peaceful garden filled with ornamental grasses, native trees, benches for sitting, and a wheelchair-accessible contemplation ring that encircles the labyrinth. The labyrinth was built starting in 2010, and construction was made possible by the Town of Carleton Place, individual, business  & community sponsors, and a Trillium Foundation grant.
Date :
Saturday May 7, 2016 | 1 p.m
Location event :
at the corner of George and Baines Streets
Contact :
Please call Debby: 613-257-1014
or visit: http://carletonplacecommunitylabyrinth.blogspot.ca/