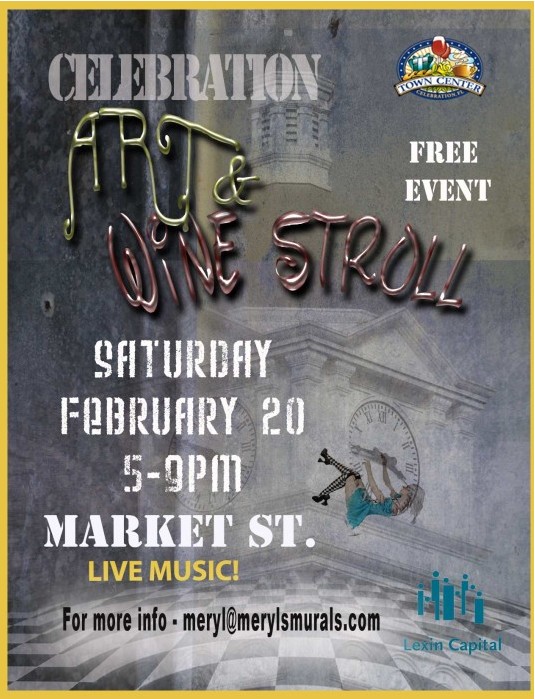 The streets of Downtown Celebration will transformation into 40+ art galleries on one special night when the Celebration Art & Wine Stroll returns for it's second year.
It's once again time for another of the tri-annual art strolls brought to you by Meryl Rachlin, Lexin and Imperium Food and Wine.
Make plans to join for Saturday, February 20, from 5 – 9 p.m., as Market Street in Celebration is dotted with a wide array of talented artists displaying their artwork.
"The Celebration Art & Wine Stroll gives the artists a chance to connect with the community, each other and visitors while delving into what we love – be it painting, sculpting, drawing…  And instant feedback from onlookers is priceless. You will see everything from pottery, photography, wood boxes, paintings-oil, watercolors and acrylics as well as a wide variety of jewelry and crafts. The Projects are geared for a wide range of ages and children leave with completed art.
Imperium Food and Wine will have wine, sangria and beer for sale. This is a free event, come one come all!
Market Street will close on Friday, February 19 at 10 p.m. and will remain closed through the Art Stroll on Saturday and should reopen by 10 p.m. on Saturday.
For more information, contact merysmurals@comcast.net.