2018 Spring Concerts in the Park
Celebration Foundation, in partnership with CROA, invite you to enjoy a free concert in the park, Wednesday, May 2 at 6 p.m., tap your feet to the sounds of Benny Goodman with the Central Florida Community Arts Big Band. Concerts are for Celebration residents at Lakeside Park. Bring your chairs, snacks and beverages of choice, also don't forget your friends, kids and furry pals. Show is weather dependent.
Let's enjoy our talented Celebration K-8 Jazz Band…led by Jim Cochran, they have worked so hard all year! After their set, the OCSA Jazz Band, led by Edwin Santiago, will perform.
Now here's some news…the Osceola County School for the Arts Jazz Band will be traveling to NYC to compete in the 23rd Essentially Ellington Competition and Festival at Lincoln Center from May 10 – 12. From Mr. Santiago…It will be OCSA's third overall appearance and historic first appearance in consecutive years (2014, 2017, & 2018). We are only one of 15 Jazz Bands from North America (one of two from FL) selected for this life-changing event!
Now here is some even brighter news…we make a donation to each of the school band departments for their performance at Concerts in the Park. Mr. Cochran wrote to say he would like the Celebration K-8 donation to go to OCSA to help the kids get to NYC. Love that he was willing to do that…but the Celebration Foundation is making a separate contribution to help OSCA's travel expense. Mr. Cochran…you are a gem
Date : Wednesday, May 2, 2018 at 6pm
Event location: 610 Sycamore Street, Sutie 110 (14 774,41 km) – 34747 Celebration, FL
Phone number: +1 407-566-1234
Website: https://celebrationfoundation.org/
………………………………………………………………………………………
Kids Night Out Mad Science Party!
Call all Scientists! Grab your safety glasses and join us for a night of wacky experiments and out of this world crafts in our parent-free science lab. Parents in the lab will cause a contaminated environment; this is a kid's only event! Pizza and sweets will be provided. We recommended having your scientists bring their bathing suit and a towel to the lab since we will be jumping into a fun pool of hydrogen and oxygen molecules to finish off our evening!
Cost: $30 per child, $15 additional child
Date : Friday, May 4, 2018 from 6-9pm
Event location: Lakeside Park, Jones Room
Contact: Parks and Recreation Department office
Phone number: 407-566-1200
E-mail: parks.rec@celebrationtownhall.com
Website: http://celebrationtownhall.com/
………………………………………………………………………………………
May Food Truck Friday
Our May Food Truck Friday will be on the 11th. Make plans to join us from 5 – 9 p.m. at Lakeside Park. PLEASE NOTE THE CHANGE IN LOCATION FOR THIS MONTH
Attendees can enjoy the sights and sounds of DJ Joe Magic, not to mention the culinary delights of many of central Florida's most popular food trucks. Scheduled lineup includes.
Date : Friday, May 11, 2018 at 5pm
Event location: Lakeside Park
………………………………………………………………………………………
Music on the Lawn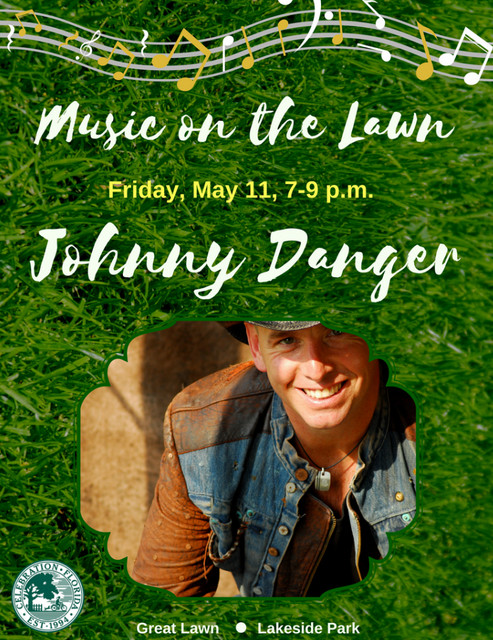 Music on the Lawn Series presents: Johnny Danger.
Date : Friday, May 11, 2018 from 7-9pm
Event location: Great Lawn – Lakeside Park, Celebration FL
Website: http://www.reverbnation.com/johnnydangerband
………………………………………………………………………………………
Happy Mother's Day!
It is the time for people to thank mothers and mother figures who took the time care for them and help them through life's challenges.
Early celebrations of Mother's Day originated from Canada's neighboring country, the United States. Carnations are a popular Mother's Day symbol in both Canada and the United States. Some people may choose to wear a carnation as a brooch on Mother's Day. However, other flowers are also given to mothers or mother figures to symbolize one's love and appreciation for them.
Many people send cards or gifts to their mother or mother figure or make a special effort to visit her.
Common Mother's Day gifts are flowers, chocolate, candy, clothing, jewelry and treats, such as a beauty treatment or trip to a spa. Some families organize an outing for all of their members or hold a special meal at home or in a restaurant. In the days and weeks before Mother's Day, many schools help their pupils to prepare a handmade card or small gift for their mothers.
The origins of Mother's Day are attributed to different people. Many believe that two women, Julia Ward Howe and Anna Jarvis were important in establishing the tradition of Mother's Day in the United States. Other sources say that Juliet Calhoun Blakely initiated Mother's Day in Albion, Michigan, in the late 1800s. Her sons paid tribute to her each year and urged others to honor their mothers.
Date :
Sunday May 13, 2018
………………………………………………………………………………………
Movie Night – COCO
Please note that this is a resident event only. Don't forget your blankets and chairs for this free movie night under the stars! Food and games available at 7:30 PM. Movie begins at dusk. Free admission.
Date : Friday, May 25, 2018 at 8:30pm
Event location: Great Lawn, Celebration, FL
………………………………………………………………………………………