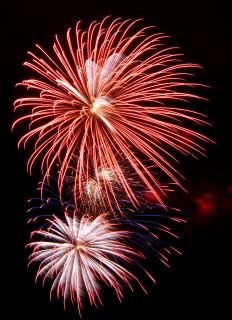 Want to see fireworks that are high quality like those at Walt Disney World without having to pay high prices? The town of Celebration, near Walt Disney World, hosts an incredible 4th of July celebration that is free to guests. But, this year the Celebration Town Center will be celebrating the 4th of July like never before! They are partnering with MegaCon to celebrate in a whole new and exciting way. This will be one of the very best celebrations in all of Central Florida and you won't want to miss it! The traditional 4th of July fireworks will have an interesting twist this year, as they will be synchronized to Sci-Fi themed music. This memorable fireworks display will be kicked off with a costume contest. Dress up as your favorite Sci-Fi character or Super Hero and have a chance to win great prizes.
Oliver's Queen, Jordyn Kane, DJ Tami, Gina Marie Incandela, and The Dixieland Jazz Band will provide live music that kids and adults of all ages will enjoy. As always, there will be bounce houses, a tribute to our veterans, inflatable games, face painting, and much more.
Parking and admission are FREE and a free park and ride shuttle will be available from 215 Celebration Place. The shuttle service will start at 5 pm, as the event starts at 5:30 pm. Bring the whole family out to enjoy the whole evening in Celebration, Florida. This year will definitely be one that you won't want to miss!
Event Schedule:
5:00   pm  Free Park and Ride Shuttle Service Starts from 215 Celebration Place
5:30   pm  Event Begins with DJ Tami
6:00   pm  Jordyn Kane performs live
6:30   pm  Oliver's Queen performs live (1 hour)
7:30   pm  Costume Contest for Sci-Fi Characters and Super Heroes
7:50   pm  Oliver's Queen performs live (1 hour and 10 minutes)
9:00   pm  The Seeds perform a Special Salute to our Veterans
9:25   pm  Gina Marie Incandela performs the National Anthem
9:30   pm  Fireworks (30 minutes)
10:00 pm  Oliver's Queen performs live (1 hour)
11:00 pm  Event ends