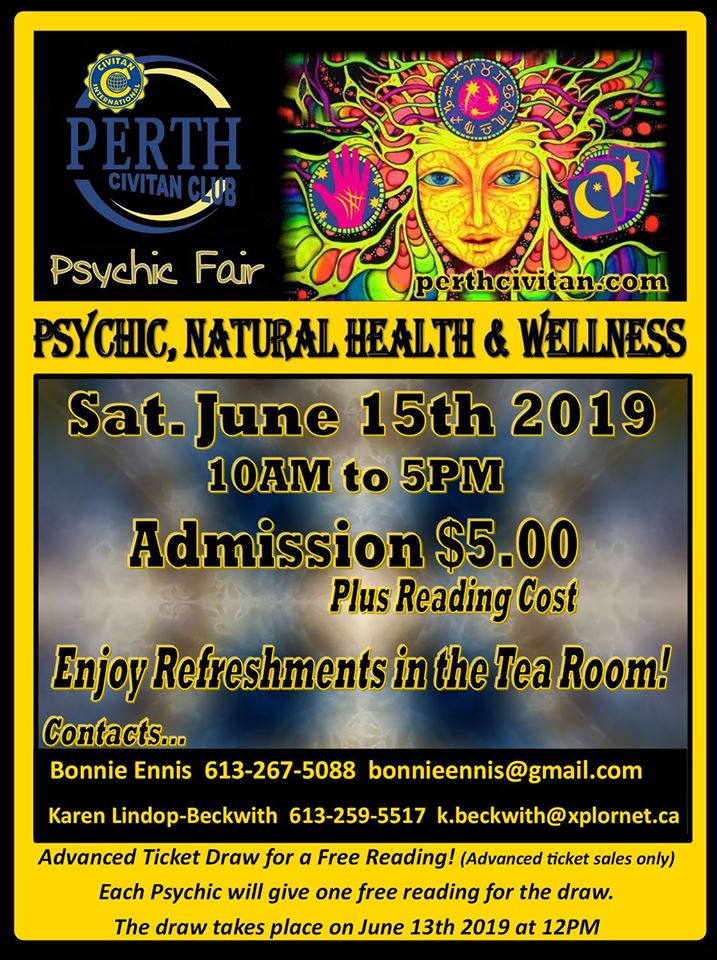 There will be a psychic fair in Perth at the Civitan Hall on June 15th & November 9th,.2019.
Perth Civitan Club Psychic, Natural Health & Wellness Fair 2019
Saturday, June 15th 2019 10:00am to 5:00pm
Admission $5.00 plus reading cost.
Advanced Ticket Draw for a Free Reading! (Advanced ticket sales only) Each Psychic will give one free reading for the draw.
The draw takes place on June 13th 2019 at 12pm
Enjoy Refreshments in the Tea Room!
List of Psychic Readers and Natural Health & Wellness Venders..
Readings by George Bishop, Life Coach at Buddha Bear Wellness Offering: This offering for a reading is for that serious person who would like to really change their lives with insight and guidance. It is a multi-layered approach and begins with:
1) Handwriting analysis-this shows traits that may have been aiding you in life and those that may have been holding you back. Handwriting maps out how you operate in the world and uses more of brain's centres than any other activity. As such it presents an "EEG" of how people behave in the world and lends valuable insight to making progress.
2) Divination Tools Begins with Runes from the ancient Norse to provide an outline/overview of the situation and the challenges with the suggestion of possible outcomes.
3) Sacred Path and Medicine Cards from Jamie Sams provide keys to becoming aware of medicine allies and totems you might use to assist you in these changes.
4) Angel cards from Doreen Virtue and Sonia Choquette are used to garner support from this realm for higher guidance
5) Dream analysis maybe also included if the client has questions from this plane of awareness and time allows.
6) Tarot may be used if there are any remaining questions
Sessions are one hour and cost $80. He also has 20 minute readings at $1 a minute.
Who is George Bishop? His origins were guided by nature as he began his career path in a rural setting with agriculture and the out of doors lifestyle. This lead him to a deep appreciation of being in touch with his surroundings. Though raised in a traditional religious background that encompassed native spirituality, Protestantism, and Catholicism his time in nature he has been long interested in this notion of tapping into higher guidance outside of traditional religion.This connection to higher guidance was especially true after a near death experience early in life that inspired him to live a life of purpose on purpose.
He was employed for 25 years in the mental health field, licensed in both mental health and addictions and forensics helping people to come across the "veil" of old beliefs. He left the field to become a Life Coach after realizing the pitfalls of modern psychology practice.
Lisa Daily ~Psychic medium who is able to channel messages from both humans and animals. For animal readings please bring a picture with you. Crystal healing sessions to clear out the old stagnant energies which have been weighting you down.
Date :
Saturday, June 15, 2019 from 10am to 5pm
Event location :
Perth Civitan Hall, Perth ON
Contact :
Booking and Ticket Contacts: Bonnie Ennis 613-267-5088 bonnieennis@gmail.com
or Karen Lindop-Beckwith 613-259-5517 k.beckwith@xplornet.ca
perthcivitan.com