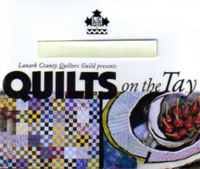 Lanark County Quilters Guild presents Quilts on the Tay taking place August 9-11, 2013 at St. John Catholic High School (2066 County Rd.10 (Scotch Line), Perth, Ontario).
Admission is $6. 200+ quilts made by members of LCQG including traditional,contemporary, wall hangings.Special displays as well as members' boutique of quilts and items for sale. Door prizes, Raffle, Tea Room, Free parking
Show Times:
August 9: 12pm – 5pm
August 10: 10am – 5pm
August 11: 10am – 4pm
Come out and have a great day viewing the quilts. Remember that this show is every two years so your next opportunity to go will be 2015.
For more information visit www.lanarkcountyquiltersguild.wordpress.com