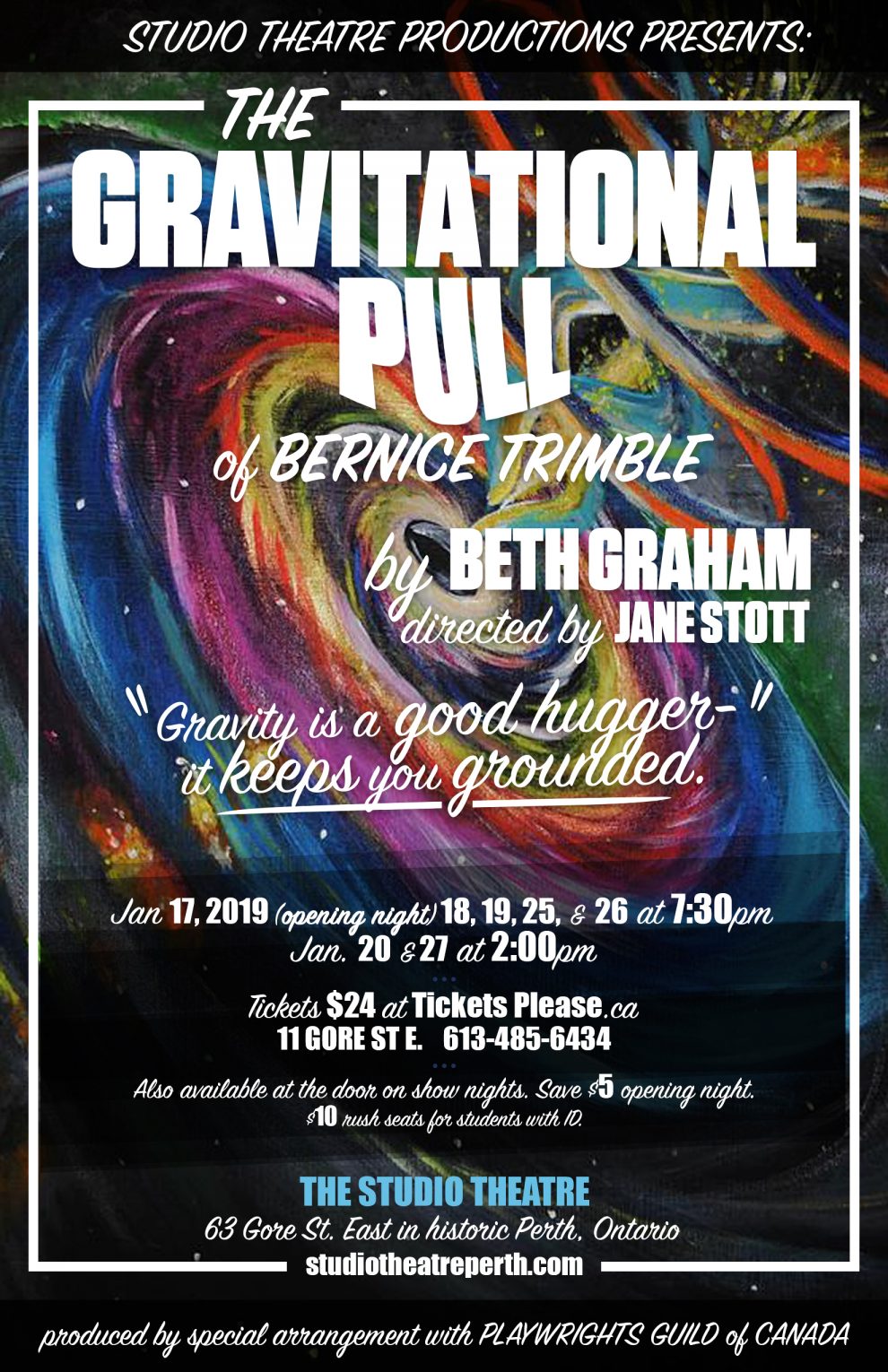 In this play, with the quirky title "The Gravitational Pull of Bernice Trimble", there are no murderers wielding weapons, no characters rushing in and out through multiple doors, and no one bursting into song every other line. There may be those of you reading this who say-"Thank goodness!" Not a velvet cape or feather boa in sight! The play is set in present day-it could take place in your own mother's kitchen.
In this play you will hopefully come face to face with yourself as you relate to one of the adult siblings, or perhaps to their mother. If we have done our job well, you will feel right at home with an occasional family outburst. You may fit comfortably somewhere in the sibling birth order scenario. You will have ample opportunity to enjoy quick wit and gentle humor- and the characters will have to pause while you laugh after many of the lines.
In this play you will be transported from the present to the past and back again. Iris, Bernice's middle child, tell us, "Sometimes, the only way out is to go in. Can't make things up. Can't wish. Can't hope. One must tell it like it is. That's what I'll do." Iris is your guide. The play challenges Iris, her sister Sarah and her brother Peter to accept each other's differences and to honor the wishes of loved ones. There will be times when you will be feeling a tug at your heart strings. There will be moments of déjà vu. You will experience the celebration of a mother's love for her children, and her children's love for her. This play will take you to where all of us could be one day, and it will do so with love and grace.
The Gravitational Pull of Bernice Trimble premieres at the Studio Theatre on Thursday, January 17th for seven shows, Jan. 17, 18, 19, 25 and 26 at 7:30 pm and Jan. 20 and 27 at 2 pm.  Advance tickets are $24 and are available exclusively at Tickets Please in the Matheson House Museum Visitor Centre, 11 Gore St. E (613 485-6434; ticketsplease.ca). Tickets are $24 at the Studio Theatre box office on show days, available 1 hour before opening.  Attend opening night and save $5!   Rush tickets for students with ID are just $ 10 at the door.
Event location :
Studio Theatre Perth, Perth ON
Contact :
Website: https://www.studiotheatreperth.com