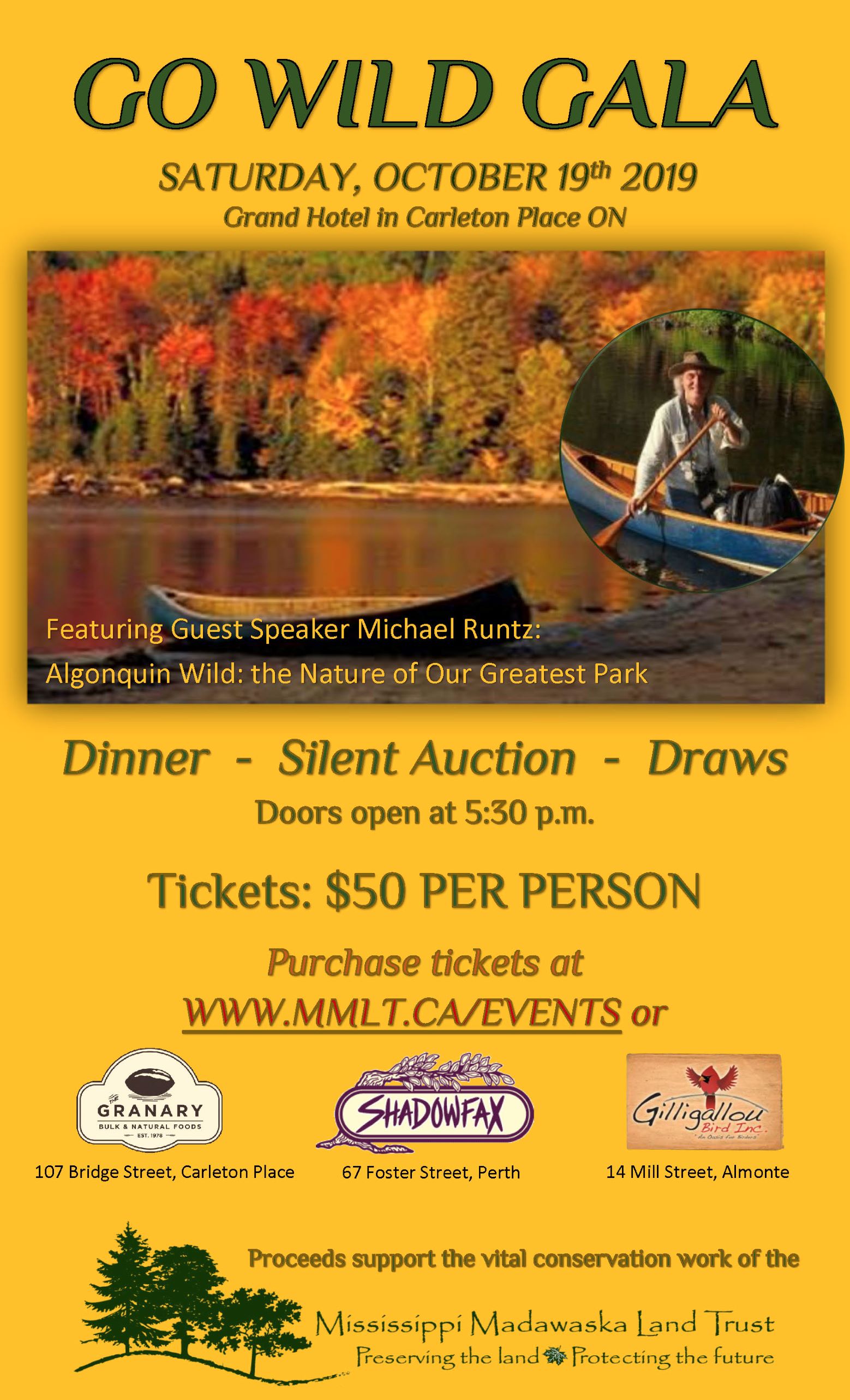 Go Wild Gala supports local Land Trust
Every autumn the Mississippi Madawaska Land Trust (MMLT) hosts its premiere fundraising event. On October 19th the Go Wild Gala will be held at the historic Grand Hotel in Carleton Place and features guest speaker, Naturalist, Michael Runtz, who will share his near 50 years experiences of exploring Algonquin Park.
Steeped in history, the Grand Hotel is the perfect venue to visit with friends and enjoy the hotels fine and full buffet dinner.  As is tradition, our silent auction will be chock full of items to suit all tastes and pocket books and get you in the mood for the gift giving season.
The Mississippi Madawaska Land Trust is a not-for-profit charitable organisation who has made a 999 year commitment to protect the wilderness properties under its care. These conservation lands will thrive for the generations to come, help to mitigate climate change and stand as example of how to care for our wild lands and the species who inhabit them. There are currently eight properties under our protection with another three under consideration.  As a charitable organization, with no government funding, events such as the Go Wild Gala, are essential to help fund the work that we do.
For tickets and additional information visit http://www.mmlt.ca/events/ or contact us at admin@mmlt.ca or 613-253-2272.
Tickets are also available at: the Granary in Carleton Place, Gilligalou Bird in Almonte and Shadowfax in Perth. (cash or cheque only)
Date :
Saturday, October 19, 2019 at 5:30pm
Event location :
Carleton Place, ON
Contact :
Carolyn Piche
Phone number: (613) 2532722
E-mail: admin@mmlt.ca