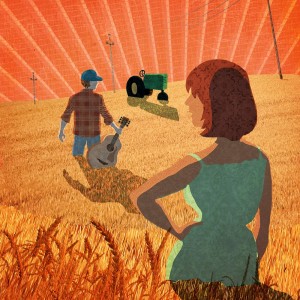 DEAR JOHNNY DEERE
"I'm wilder than her, what else can I say…"
Often called the Bruce Springsteen of rural Ontario, Juno Award-winning Fred Eaglesmith's fun and evocative country songs have been masterfully woven into this foot-stompin' musical.
Johnny's got a wife and a farm. But will he for long? This foot-stompin' musical is set to the fun and evocative songs of Canadian country legend Fred Eaglesmith.
Lately, not much has been growing on Johnny's farm – or in his wife's heart. So when a man from the city comes knocking and says they're going to put a big ol' highway through Johnny's land, he has some tough choices to make.
Book by Ken Cameron
Based on the music and lyrics of Fred Eaglesmith
Additional music and arrangements by David Archibald
Playing at the Springer Theatre from September 25 – October 18
Tuesday to Saturday. . . . . . . . . . . . . . . . . . . .8pm
Wednesday, Saturday & Sunday. . . . . . . . . . 2:30pm
(No Saturday matinee on opening day of shows)
Cast
McAllister: Jeff Culbert
Caroline: Shannon Currie
Johnny: Greg Gale
Mike/Hendrik/Auctioneer: Bruce Horak
Fiddler: Capucine Onn
Creative
Director: Ashlie Corcoran
Assistant Director: Rob Kempson
Set & Costume Designer: Camellia Koo
Sound Designer: Adam Harendorf
Lighting Designer: Michelle Ramsay
Music Director: David Archibald
Stage Manager: Natasha Bean-Smith
Assistant Stage Manager: Chantal Hayman