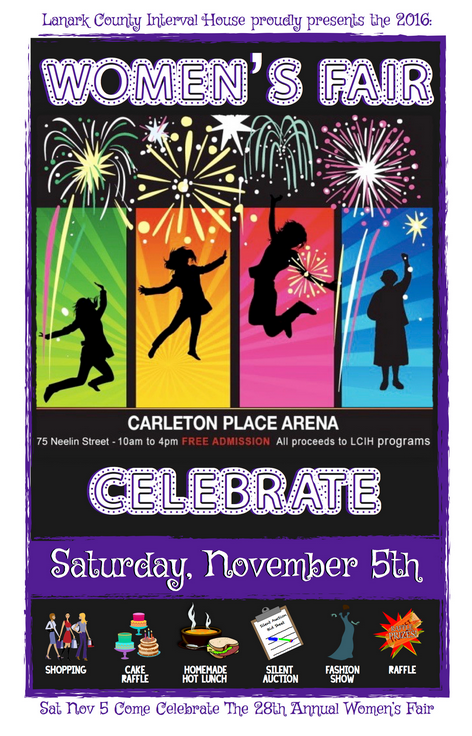 Mark your calendar for November 5th, 2016 from 10 am to 4 pm at the Neelin Street Community Center (CP arena) for the Annual LCIH Women's Fair in support of Lanark County Interval House.
Interval House is the only dedicated anti-violence organization in the County. From support services, crisis line, emergency shelter to outreach services and public education, Lanark County Interval House is reaching out, rising up and supporting women's empowerment, strength and courage.
Women's Fair demonstrates true leadership
The herstory of the Women's Fair is one that LCIH is most proud of, as the legacy of leadership and commitment is remarkable. It combines two essential goals of the work of LCIH; it raises much-needed funds to support our many programs and it offers a venue for public education on the issues facing women and their children fleeing and or living with violence in their homes.
Without the Women's Fair the agency would be required to raise many more thousands of dollars to offer the direct service supports to women in Lanark County.
We appreciate the support of the community as it is an integral part of the foundation so we hope to see you at the fair.
For more information or to be a part of the event please contact Pam Cupak, Fundraising Coordinator, at 613 257-3469 ext. 27.
Date :
Saturday, November 5, 2016 | 10 am to 4 pm
Event location :
Carleton Place Arena,
Neelin Street Community Center
Contact :
Organizer : Pam ; email : Cupakfundraising@lcih.com
Website : http://lcih.org/28th-annual-womens-fair/