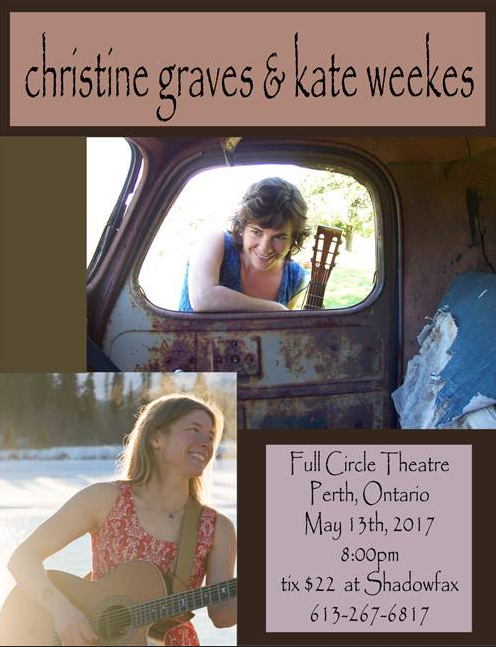 A superb night of original music from two established songwriters. Both have new stories and sweet voices to share in this beautiful venue. One night only!
Christine Graves and Kate Weekes are singer-songwriters with roots in the Perth area. Kate is originally from Smiths Falls and has spent the past decade living in the Yukon Territory. For the winter of 2017, Kate's adventures took her to Norway where she was working as a wilderness guide with a team of 52 sled dogs. Christine lived in Balderson for 15 years, often writing songs that reflected the Lanark landscape and life. She now resides in Ottawa.
The two songwriters carry an affinity for rural Canada and have teamed up to share an evening of song in concert. They will be accompanied by James Stephens on fiddle and Franc van Oort on guitars.
For tickets visit Shadowfax or order by phone1-800-518-2729.
Date :
Saturday, May 13, 2017 at 8 pm
Event location :
Full Circle Theatre,
26 Craig Street,
Perth, ON, Canada
Contact :
Phone contact: 613-267-6817