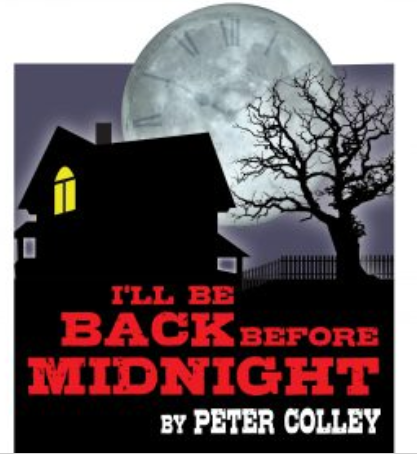 Classic Theatre Presents "I'll Be Back Before Midnight" playing from August 18th to September 10th, 2017.
New Performance Times!
Tues. to Sun. matinees at 2pm
Wed. and Sat. evenings at 8pm
A psychological thriller in the best tradition of Alfred Hitchcock.
Canadian Peter Colley's I'll Be Back Before Midnight, a Hitchcock-styled psychological thriller that is the most successful play ever staged in Canada and the most produced Canadian play abroad (in over 30 countries!). A young couple from Toronto buy an old country farmhouse, and that's when apparitions start to appear, strange noises are heard, and every moment that draws you to the thrilling finish keeps you on the edge of your seat.
Pre-show Talks explain the history, story, background, and social/cultural context of the play and playwright and are included with the price of your ticket. Pre-show Talks are presented at 1:30pm before each matinee, and at 7:30pm before each evening performance.
Please click here for tickets and here for group sales.
Date :
Friday, August 18, 2017
Event location :
Classic Theatre Festival
54 Beckwith St. E., Perth, ON
Contact :
Phone contact: 1-877-283-1283
E-mail: info@classictheatre.ca
Website: http://www.classictheatre.ca/