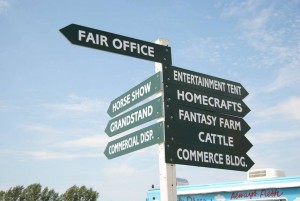 September 4 – 7, 2015
Perth & District Agricultural Society
Box 158, 50 Arthur St.
Perth, ON K7H 3E3
Phone/Fax: 613-267-4104
Email: office@perthfair.com
Website: perthfair.com
ADMISSION
Adults …………………………………………..Friday $10.00
Adults ……………………………………….Saturday $12.00
Adults …………………………Sunday & Monday $10.00
Children 7 – 12 years……… Fri, Sat & Sunday $4.00
Children 7 – 12 years………………………Monday $2.00
Children 6 and under ····························· FREE
Membership Fee ································· $10.00
This year at the Perth Fair:
AGRICULTURAL TENT
CHILDREN'S EVENTS
FANTASY FARM
GRANDSTAND ENTERTAINMENT
HOMECRAFT BUILDING
CATTLE SHOWS
SPECIAL EVENTS
and so much more!
About the Perth Fair
The Perth and District Agricultural Society was founded in 1845. Many things have changed over the years, including the name and location of the society. One thing that has remained is the dedicated volunteer base which has supported the organization over the years.
Did you know? – The Perth and District Agricultural Society is a non-profit organization that hosts the Perth Fair on Labour Day weekend in Perth, ON. The organization is made up of hundreds of volunteers who come together to present a balance between agricultural and entertainment events.
We continue to build upon tradition while embracing the future and look to bring the best possible Fair to the Perth Fairgrounds. Have you considered volunteering? Become a member of a strong volunteer based organization. Please contact us at volunteer@perthfair.com .
Perth Fair – A Tradition Built on Excellence.