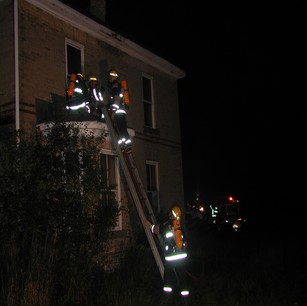 Join the Perth Fire Fighters for a Golf Tournament on June 3rd, 2016.
Cost is $100 per person which includes golf, cart, dinner and prizes. Proceeds will be used to sponsor free skating and free swimming throughout the year, and other worthwhile community causes.
Please include a contact name and number/email, and a list of your team members. Please have your team paid by cash or cheque (payable to the Perth Fire Department Fundraising) by April 30th.
The Perth Fire Department considers training its 31 members to be of the utmost importance and schedules regular training twice a month.  The Ontario Fire College offers enhanced and specialized skills training utilized by our members to ensure a high level of competency in all services offered by the department.  The members of the department are strongly committed to the department and to the citizens of Perth.  There are countless hours involved in training, responding to fire calls, and additional voluntary commitments such as Canada Day Fireworks, Maplefest, Muscular Dystrophy, Smoke Alarm Program, Santa Claus Parade, Garlic Festival, and the Perth Fair.  All of the members are proud to be an involved in our close-knit community.
Date :
Friday June 3, 2016 | all day
Location event :
at the Perth Golf Course
Contact :
For further information, please visit: www.perth.ca/content/fire-department
To reserve: t_choffe@yahoo.ca or call 613-812-1415.