Maple Tapping Out Party 2017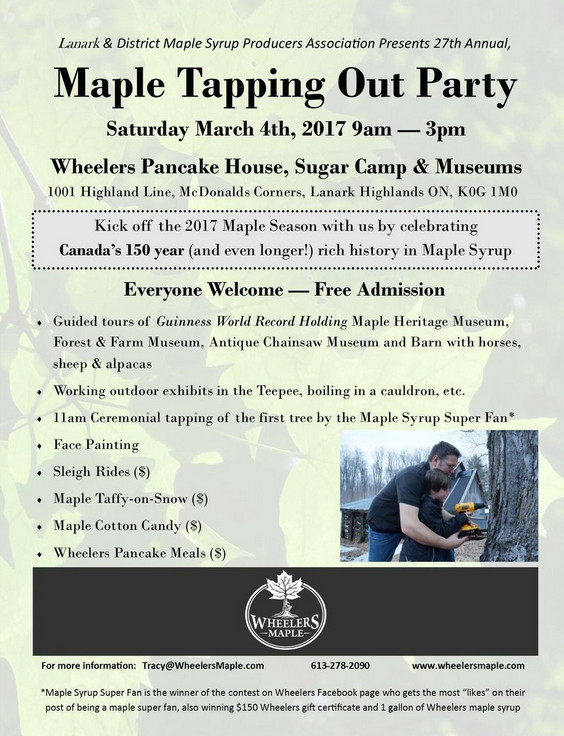 The Lanark & District Maple Syrup Producers present the 27th annual TAPPING OUT PARTY on Saturday, March 4th, 2017 from 9am to 3pm, this year hosted by Wheeler's Pancake House and Sugar Camp (1001 Highland Line, McDonald's Corners, ON).
Celebrate Canada's 150th anniversary and its rich maple history.
Show us of Tapping the ceremonial First Maple Tree at the Lanark & District Maple Syrup Association's Tapping Out Party.
One Gallon of Wheelers Maple Syrup ($65 value)
$150 Wheelers Gift Certificate
Free admission, tours, museums, outdoor exhibits, ceremonial tapping at 11am sharp, face painting, sleigh rides and maple meals and treats.
Date :
Saturday, March 4, 2017 from 9 am to 3 pm
Event location :
1001 Highland Line, McDonald's Corners, ON
Contact :
Tracy Wheeler – Wheeler's Pancake House and Sugar Camp
Phone contact: 613-278-2090
Email: tracy@wheelersmaple.com
Website: http://www.wheelersmaple.com/
………………………………………………………………………………………
Perth's Women's Health & Wellness Event in Westport

On Sunday, March 5th, 2017, at the Best Western Plus Parkside Inn, Andrea Picket Physiotherapy presents THE PERTH WOMEN'S HEALTH + WELLNESS EVENT. 9am to 4pm.
In honour and support of International Women's Day, bringing awareness to women's health and wellness professionals who work in our community.
Free drop-in event, meet, mingle, listen and learn. Donations to Lanark County Interval House.
Date :
Sunday, March 5, 2017 from 9 am to 4 pm
Event location :
12 Elliot St, Perth (Ontario)
Canada
Contact :
For further details, please call Andrea Picket Physiotherapy
at 613-464-1077 or send email to: andreapicket@gmail.com
………………………………………………………………………………………
8th Annual Seedy Sunday

The Perth Farmers' Market presents SEEDY SUNDAY, March 5th, 2017 from 10am to 3pm at the Royal Canadian Legion in Perth (26 Beckwith St. East).
There will be a talk on vermicomposting (11am), and Edible Food Forests (2pm) as well as likely a talk on Backyard Chickens and an intro to Beekeeping. The Lanark County Master Gardeners and the Perth and District Horticultural Society will also be on hand to tell you about their programs, including the Perth Community Allotment Gardens, Table Community Food Centre, Rare Breeds Canada, and Canadian Organic Growers.
There will also be seed sellers, farmers (selling cheese, wool, sunflower oil, goat milk soap, preserves and honey). Lunch and snacks are available at the canteen. For information call Sarah Mackenzie, President of the Perth Farmers' Market or check the Perth Farmers' Market facebook page for further updates.
Date :
Sunday, March 5, 2017 from 10 am to 3 pm
Event location :
Perth, ON
Contact :
Sarah MacKenzie, President
Phone contact: 613-284-0578
Website: http://www.perthfarmersmarket.ca/node/77
………………………………………………………………………………………
The Salesman

Film Night International presents THE SALESMAN at Full Circle Theatre (26 Craig St., Perth), on Wednesday, March 8th, 2017 with screenings at 2pm and 7pm.
A young couple moves into a new flat in the centre of Tehran where they become embroiled in a life-altering situation involving the previous tenant.
Tickets are $10 each, or a 9-film pass is $75, available from the Perth & District Union Public Library.
Date :
Wednesday, March 8, 2017 from 2-4 pm and from 7-9 pm
Event location :
Full Circle Theatre
26 Craig St, Perth, ON
Contact :
Film Night International
Phone contact:  613-267-1224
Email:   filmnightperth@gmail.com
Website:  http://filmnightinternational.blogspot.ca
………………………………………………………………………………………
St Patrick's Day at the Legion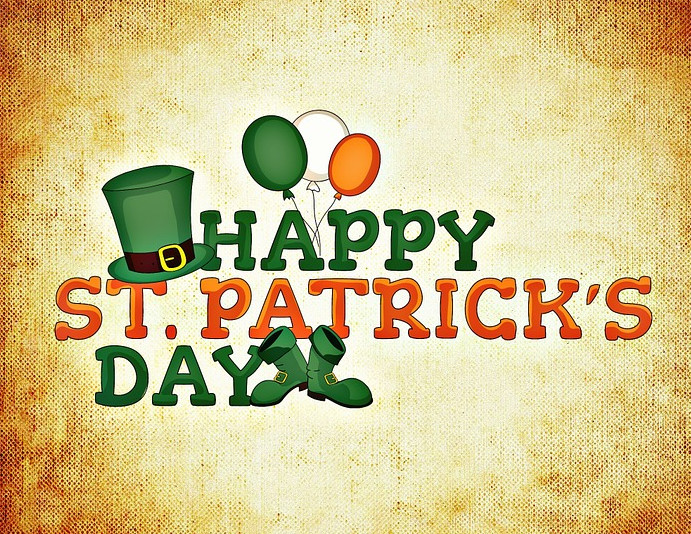 St Patrick's Day is a public holiday in the Canadian province of Newfoundland and Labrador on the nearest Monday to March 17 each year. It remembers St Patrick, a missionary who converted many of Ireland's inhabitants to Christianity in the 5th century. His feast day also celebrates Irish culture.
St Patrick's Day marks the feast day and anniversary of the death of a Christian missionary known as Patrick. He was born in the year 387, probably somewhere near the present day border between Scotland and England. At the age of 16, he was captured and taken to Ireland as a slave. During this period, he became very religious and after six years he fled back to his family.
St Patrick's Day celebrations were brought to Canada by Irish immigrants. The day is a bank holiday in Northern Ireland and a public holiday in the Republic of Ireland. In the rest of the United Kingdom, the United States, Australia and New Zealand, it is celebrated, but is not an official holiday.
People who have an Irish background or enjoy Irish culture may hold Irish themed parties and serve traditional dishes, such as Colcannon or Irish stew. Colcannon is a dish of mashed potatoes mixed with kale or cabbage and Irish stew is traditionally made with lamb and root vegetables.
Symbol
The most widely-seen St Patrick's Day symbols are the colors green, and sometimes orange, and the shamrock. The shamrock is a symbol of Ireland and a registered trademark of the Republic of Ireland. It is the leaf of the clover plant, which grows on the ground, often among grass and an Irish Catholic symbol of the Holy Trinity. It is sometimes confused with the four-leaf clover, which is a variety of the three-leaf clover and is thought to bring good luck.
Date :
Friday, March 17, 2017 | All day
Event location :
Perth, ON
………………………………………………………………………………………
Earth Hour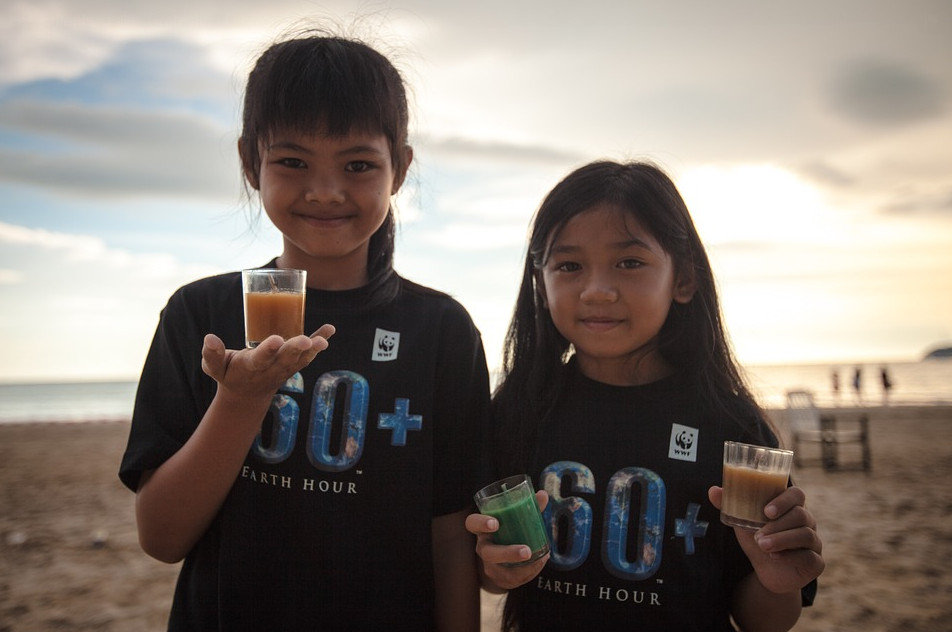 Saturday, March 25th, 2017 is the date of EARTH HOUR, a global movement to reduce our carbon footprint. The hour takes place from 8:30pm to 9:30 as a show of solidarity in recognition of climate change. Perthites are encouraged to recognize Earth Hour by observing, conserving and celebrating with family and friends. Wind-up flashlights and beeswax candles are ideas for environmentally friendly light source alternatives.
Date :
Saturday, March 25, 2017 from 8:30 to 9:30 pm
Contact :
World Wildlife Fund
Website: www.earthhour.org
Event location :
Perth, ON
………………………………………………………………………………………
Foodsmith's Empty Bowl Fundraiser
For 3 days – March 30th, 31st and April 1st – Foodsmiths in Perth will host their annual EMPTY BOWLS FUNDRAISER. 11am to 2pm daily, come into the store to purchase your locally handcrafted ceramic bowl and have it filled with a delicious kale-bean soup. For $25, you can support local food programs and community groups, have a delicious bowl of soup, and get a beautiful piece of art you can take home! Bowls are now available for purchase in-store. Keep your receipt and come back during the fundraiser for soup!
Date :
Thursday, March 30, 2017 from 11 am to 2 pm
Friday, March 31, 2017 from 11 am to 2 pm
Contact:
Phone contact: 613-267-5409
Website:  www.foodsmiths.com
Event location:
106 Wilson St. West, Perth
………………………………………………………………………………………
Wrong for each other

Studio Theatre Perth presents: "Wrong for Each Ohter".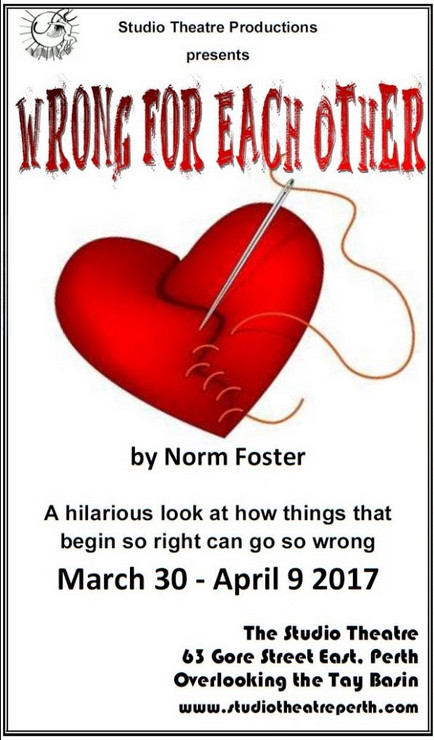 Date :
March 30 to April 9, 2017
Event location:
The Studio Theatre
63, Gore Sreet East Perth
Overlooking the Tay Basin
Contact:
Website: www.studiotheatreperth.com
………………………………………………………………………………………