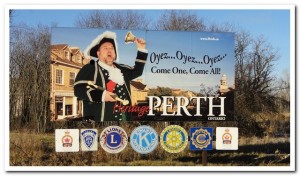 Date: Saturday, September 26th, 2015
Time: 7 a.m. – 5 p.m.
Cyclosportif Perth – Cycle Tour Route through Perth and District
Welcome!
Late September brings with it the beginning of the beautiful fall colours in the Rideau Lakes Township and we want you to experience it firsthand.
Come join hundreds of cyclists on the roads in, around and between Perth, Murphy's Point, Portland, and Westport.
Cyclosportif Perth is not a race–there will be no results and no timed sections. You can go hard if you want, or you can simply take your time and enjoy the scenery.
We've got something for most everyone, from "The Roadie 100k" to "The Roadie 100 Miles" to the even more adventurous folks who like a bit of dirt and gravel with "The Dirty Version"–100k on a mix of paved and dirt roads.
START/FINISH location:
Perth Fairgrounds, 50 Arthur St, Perth, ON
Event Day Schedule
7-9:30 AM–Registration/kit pick up and MANDATORY Rider Sign-in. We need to know who is actually riding, and what route they are riding. Please remember to SIGN OUT after your ride, so we know you made it back safely.
7 AM–exhibitor booths open (except the beer tent)
Road
8 AM—100 miles
9:00 AM—Dirty 100k
9:30 AM—100k Registration 2015
Registration Includes:
· Sponsor/supporter swag
· Beer ticket
· Separate bike and rider numbers
· Awesome post ride food
· On course support vehicles from Bushtukah
· Rest stops appropriately spaced
· Mechanical support before and during the ride (hopefully you will not need this)
· Great Directional signage
· Amazing scenery and memories
Post Ride Activities
11 AM- 5 PM Post ride fueling!!
Entertainment and food
Exhibitors and expo
Come and explore this great area on two wheels. There is so much to see!
Note: paid event