A Story of the Iroquois Confederacy
Who were the First Nations of our region and how did they play a pivotal role in shaping Canada, our history, and our cultural identity?
Discover the, "Wilderness Empire: A Story of the Iroquois Confederacy," as author and historian Michael Hart presents on the the Haudenosaunee and their central place in the story of our nation.
This is a story of the rise and fall of the wilderness empire of the Iroquois Confederacy. This is a story of powerful Indigenous confederacies and alliances, and the struggles for territory and dominance between Indigenous coalitions and the empirical powers of the Netherlands, France, and Britain in eastern North America. Central to this story are the five tribes of the Mohawk, Oneida, Onondaga, Cayuga and Seneca. Centuries before Europeans found their way to eastern North America, the five tribes accepted the message of the Great Binding Law brought by the Peacemaker, declared an armistice among themselves, and became known as the Haudenosaunee Confederacy.
This is a story of how the Haudenosaunee Confederacy, later known as the Iroquois Confederacy, won a wilderness empire through military power and political prowess. This is also the story of how, confronted by overwhelming pressure from European encroachment, the Iroquois fell from princes of wilderness empire to refugees in their ancestral lands.
This is a story of intelligent military strategy and bold diplomacy of Indigenous leaders that altered the history of European empires and shaped the cultural and political landscape of present-day eastern North America.
Date :
Tuesday, December 12, 2017 – 6:30pm
Event location :
Gananoque Public Library, 100 Park Street, Gananoque, Canada
Contact :
Gananoque Public Library
…………………………………………………………………………………
Mike Biggar 2017 Acoustic Christmas Tour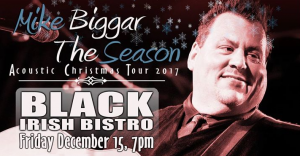 New Brunswick Roots singer-songwriter Mike Biggar brings his 2017 Acoustic Christmas tour to The Black Irish Bistro in picturesque Gananoque for an intimate evening of heartfelt original holiday songs and beloved Christmas standards as featured on his multi award-winning soulful album THE SEASON.
Joined by his musical friend Sandy MacKay, Mike's acoustic duo concert will showcase songs of the Christmas season in his signature soulful, bluesy roots styling…and the show is bound to include lots of disarming humour and stories from this award-winning artist!
Date :
Friday, December 15, 2017 – 7pm
…………………………………………………………………………………
December Christmas Concert
7 Area Choirs performing several of their favorite Christmas Carols. All proceeds go to the Gananoque and Area Food Bank. Admission at the door. Adults $10 Children $5, Family $25. (max).
Date :
Sunday, December 17, 2017 – 2pm
Event location :
St John the Evangelist Catholic Church. 270 Stone St. Gananoque, Ontario, K7G 2A1
…………………………………………………………………………………
The Gananoque Inn & Spa's Annual Homecoming Celebration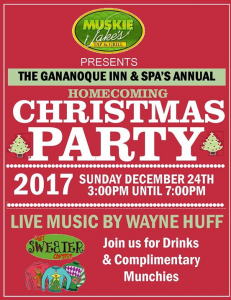 Celebrate the season with family and friends this Christnas Eve by starting at Muskie Jake's Tap & Grill. A long tradtion of meeting up with old friends and family, We invite you to join us for complimentary munchies and Live Music by Wayne Huff! Festive drink menu will be available and be sure to wear your Ugly Sweater for a chance to win some great prizes!
Date :
Sunday, December 24, 2017 – 3pm
Event location
Muskie Jake's Tap & Grill, 550 Stone Street, S.,, Gananoque, Canada
…………………………………………………………………………………