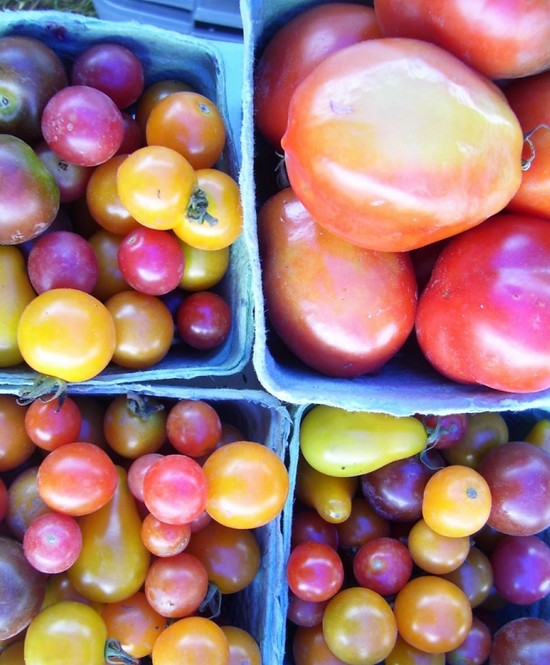 THE PERTH FARMERS' MARKET takes place every Saturday morning between May 7th and October 8th, 2016, in the Tay Basin Parking Lot and around the Crystal Palace.
Vendors are set-up between 8am and 1pm and offer fresh, local, organic in-season produce, plants, preserves, meat, home baking, and tons of other goodies. The Market also offers artisans and crafts, jewellry, entertainment occasionally and chance to have breakfast at the Piggin' Out Market Cafe. This is a great way to spend a Saturday morning, getting to know your local producers in the heart of downtown Perth!
Thanks to the founding people and many dedicated vendors, volunteers and customers, our market is one of the most interesting and vibrant in Ontario.  Because of this success we have a steady core of vendors that offer high quality, and a good variety of produce, crafts and services.
These are just some of the products you can find on any given market day:
•    local organically grown produce,
•    home baked pies, pastries and bread,
•    pickles, jams and preserves of all kinds,
•    confections
•    flowers, herbs and plants,
•    garlic, honey and maple syrup,
•    meat and eggs
•    weaving, juried crafts and jewellery
•    BBQ pork
•    Market Cafe
The attractive and scenic location, free parking on Saturdays and "al fresco" eating tables combined with local music makes Saturday mornings at the market a winning combination. Every Saturday one lucky patron wins the contents of the market basket which is filled with samples contributed by the vendors that day.

Date :
Saturday, July 16, 2016 from 8 am to 1 p.m
Saturday, July 23, 2016
Saturday, July 30, 2016

Event location :
Tay Basin Parking Lot and around the Crystal Palace
Perth, ON

Contact :
Website : http://www.perthfarmersmarket.ca/
Or call : +1 613-284-0578