Perth Blue Wings VS. Char-Lan Rebels
On Friday, February 3rd, 2017 the PERTH BLUE WINGS take on the CHAR-LAN REBELS, 8:00pm, at the Perth & District Community Centre, 2 Beckwith St. East, Perth.
Date :
Friday, Feb 3rd, 2017 @ 8 pm
Contact:  Michael McLean
Phone:  613-267-5100 or 1-800-267-7928
Website:  www.perthbluewings.pointstreaksites.com
………………………………………………………………………………………
Sarah McDOUGALL in Concert


On Friday, February 10th, 2017, at 8pm SARAH MacDOUGALL will perform in concert at Full Circle Theatre (26 Craig St., Perth). Perth plays host once again to another fabulous international artist! Tickets will be available at Shadowfax (67 Foster St.) or call to charge at 613-267-6817, or online at www.shadowfax.on.ca.
SARAH MacDOUGALL is a Swedish Canadian singer/songwriter living in Whitehorse, Yukon. Described by the magazine Rootstime in Belgium as "One of the greatest talents of our era," and listed as the "second best gig" by the major UK newspaper The Independent, becoming the #1 most played artist on Canadian Galaxie Folk/Roots radio, Western Canadian Music Award winning artist Sarah MacDougall is getting known for her honest and poetic songs, passionate performances, and unique voice. Born in Sweden, Swedish magazine Nojesguiden declared her "One of Sweden's best singer/songwriters."
Since the release of the award-winning The Greatest Ones Alive in 2011, Sarah has been touring Canada and Europe endlessly, taking time to work on songs and record between tours. Last winter, she hunkered down under the Northern Lights in Whitehorse and put the final touches on the sonically rich album which was to become Grand Canyon. The album, co-produced by Sarah and Caleb Stull (Field Study, Dominique Fricot, Language Arts) which was recorded in Toronto and Vancouver, features 8 songs and guest appearances from Erika Angell (Thus: Owls), Rose Cousins, Jesse Zubot (Tanya Tagaq, Dan Mangan), Peggy Lee and Leah Abramson (Abramson singers). Stepping outside of traditional folk and flirting with sounds that could have come from The Postal Service or Kate Bush, Grand Canyon keeps the accoustic guitar but infuses the sound with heavier drums and richly textured strings and synths.
Date :
Friday, Feb.10, 2017 @ 8 pm
Event location :
Full Circle Theatre
67 Foster Street
K7H 1R9 Perth
Contact :
Phone contact: 613-267-6817 for tickets
Website: http://www.shadowfax.on.ca/
………………………………………………………………………………………
Sweet Heat Shopping Extravaganza

Love is in the Air   in the Month  of February at the Best Westerm  Plus  Perth  and the Ladies of the Tay  will have  all  you desire   for  your  special  person   under one  roof.
With  gifts  for men and women  you will want to attend this  one stop  shopping   event.  Enter  to win  one of our  free draws .  Help us to  raise  money  for the  TABLE  by  donating  to our    donation  box.
Shop local  and  suport local  women in small business.  Stop  by  and  visit the Ladies of the Tay  a group  of local  business women.
Date :
Saturday, Feb.11, 2017 | 11 am to 3 pm
Event location :
82 Peter Street Perth Ontario
Contact : Lynn Crawford
Phone contact : 613-264-9218
Email : ladiesofthetay@gmail.com
Website : https://www.facebook.com/events/725023490983199/
………………………………………………………………………………………
Fire and Ice 2017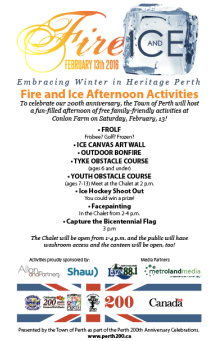 The Town of Perth will officially launch its 200th anniversary in a way that celebrates the true Canadian spirit: in the middle of winter! Fire & Ice is a two-tiered, day-long celebration that focuses on both the family and night-time celebrations.
To celebrate our 200th anniversary, the Town of Perth will host a free, fun-filled afternoon of family activities at Conlon Farm on Saturday, Feb. 13 from 1-4 p.m.! Check out the activities we have planned for our special day:
Frolf: Frisbee? Golf? Frozen? We'll be combining two popular sports into one as we set the stage for a four-hole Frolf Course. You'll try to get frisbees into custom-made "golf" holes. There is a trophy for the champion!
Ice Canvas Art Wall: We'll be putting up an ice canvas wall in front of the chalet, where you'll have the chance to take a paintbrush to ice and create some beautiful art!
Outdoor Bonfire: There's nothing better than an outdoor bonfire in the middle of winter! We'll have an outdoor bonfire set up outside the chalet where you can warm your fingers and toes between activities.
Tyke Obstacle Course: Just because you're tiny doesn't mean you can't enjoy the snow! We're putting together a mini-obstacle course for the little ones (ages 6 and under), so they can get a taste of winter fun!
Youth Obstacle Course: Do you love a challenge? Have a competitive spirit? Want to tackle Mother Nature's offerings? We'll be hosting a youth obstacle course at 2 p.m. where youth (ages 7-13) will have the chance to complete an obstacle course across Conlon Farm in a timed challenge! Meet at the Chalet at 2 p.m.
Ice Hockey Shoot Out: participants will have the chance to shot a puck through the shootout billboard on the outdoor ice pad. If you get three in, you could win a prize!
Facepainting: Take a long-time favourite festival activity for kids, and bring winter in as the themed creation! From Elsa eyes to snowmen on cheeks, our facepainters will be in the chalet from 2-4 p.m. to give your kids the chance to select a winter-themed facepaint creation.
Capture the Bicentennial Flag: You're going to have a blast competing in a capture the flag event where you'll work with your team to get your opponent's flag with a winter twist.
Did someone say, Ice Bar?!
That's right. We've got an amazing night planned to officially launch the Town of Perth's 200th Anniversary Celebrations!
Doors open at the Crystal Palace at 7 p.m., where you'll hear some sweet tunes coming from the Riq Turner Band.
Let's Recap How Your Day's Going to Go:
•    1-4 p.m.: Family activities at Conlon Farm: tobogganing, outdoor skating, custom-made obstacle course, toddlers' play area, snolf, official snowball fight facility.
•    4 p.m.: Get home, get changed, feed the kids (or your pets – or both, for that matter!)
•    6 p.m.: Head out on the town and dine at one of our popular restaurants
•    8 p.m. (ish): Head to the Crystal Palace to dance in your winter boots, grab a drink at the ice bar, cozy up at the bonfire and celebrate all things Perth while watching the Fireworks show.
Date :
Monday, February 13, 2017 | 1 to 4 pm
Event location :
Perth Town Hall:
80 Gore Street E.
Perth, Ontario
K7H 1H9
Phone contact : 613-267-3311
………………………………………………………………………………………
Valentine's Day Celebration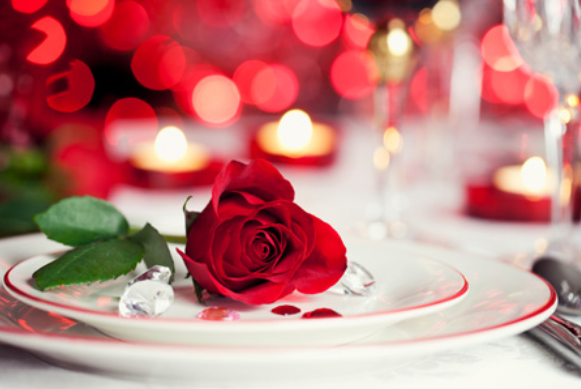 Valentine's Day is a time when people show feelings of love, affection and friendship. It is celebrated in many ways worldwide and falls on February 14, each year.
Valentine's Day is an opportunity for people to tell somebody that they love them in a romantic way. It falls on February 14, the name day of two saints, St Valentine of Rome and St Valentine of Terni. In pre-Christian times, the middle of February was a time of pagan fertility festivals in Europe and allegedly the time when birds chose a mate.
Many people give gifts to loved ones on Valentine's Day. Common gifts are:
•    Flowers, particularly red roses.
•    Chocolates and/or candy.
•    Teddy bears.
•    Toy hearts.
•    Sparkling wine.
•    Cosmetics.
•    Clothing, including lingerie.
•    Jewelry.
Many people also thought that birds chose their mates at this time of year. Around the year 1380, the English poet Chaucer wrote a poem for the first anniversary of the engagement of King Richard II to Anne of Bohemia. This is thought to be the first association between celebrations of romantic love and St Valentine's Day on February 14. The connection remained important throughout the middle ages.
The most common symbols of Valentine's Day are heart shapes, which are used to decorate many things, including cards, trees, wrapping paper, cookies and gift boxes. Other symbols associated with February 14 are pairs of birds, cute teddy bears, Cupid and his arrows and couples kissing or embracing. The colors red and pink are often associated with Valentine's Day.
Date :
Feb 14, 2017 @ all day
………………………………………………………………………………………
Barndoor Productions presents: 7 keys to Baldpate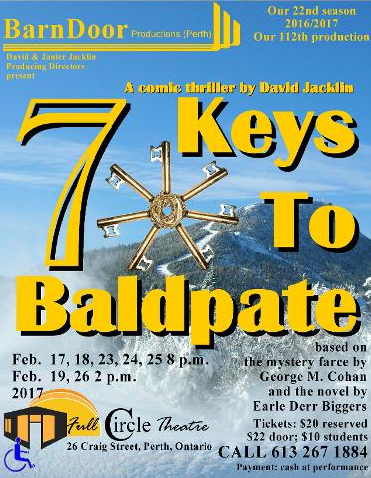 BarnDoor Productions Presents "7 Keys to Baldpate". Our new adaptation of the mystery farce by George M. Cohan.
A comedy-thriller set on a mountain-top in the middle of the winter.  Cohan's play has been made into six movies over the decades since its 1915 debut.
George M. Cohan's biggest hit – made into 6 movies over the decades! This new adaptation is fast, funny and thrilling – mysterious happenings in a shut-up inn at the top of Baldpate Mountain. Please click here for tickets : https://www.barndoorproductions.ca/single-event-orders.php
Date :
Feb 17, 19, 23, 24, 25, 26, 2017
Event location :
Full Circle Theatre
26, Craig Street
Perth, ON
Contact :
Website : http://www.barndoorproductions.ca/
………………………………………………………………………………………
Ontario Family Fishing Weekend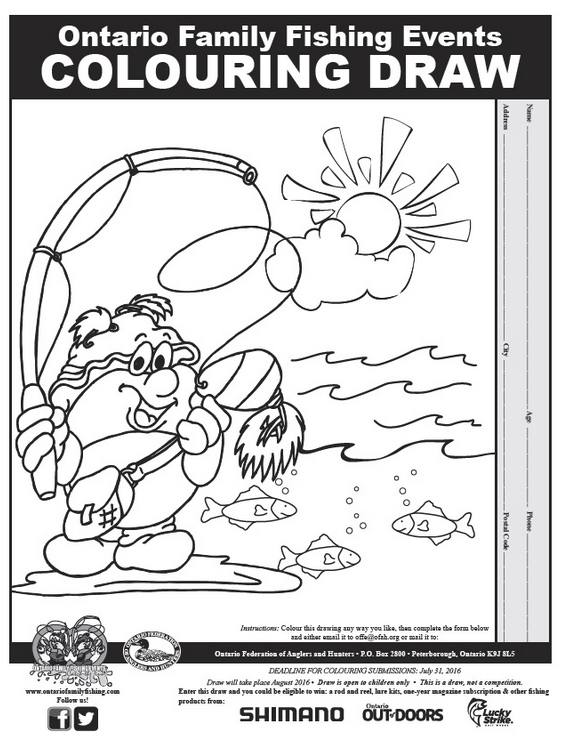 February 18-20 (12:01 a.m. Saturday to 11:59 p.m. Monday) are designated as OFFW license-free fishing days. Fish license-free! Take a friend fishing! Ontario Family Fishing Weekend (OFFW) events make it easy to try fishing in Ontario waters for the first time (or the first time in a long time).
The government of Ontario designates several days during which Canadian residents can fish license-free in any water body where fishing is allowed.
During all other periods, most Canadian residents between the ages of 18 and 64 years must purchase an OUTDOORS card and a fishing license to legally fish in Ontario.
Date :
Saturday, Feb 18 to Monday, Feb 20 | 12 am to 11 :59 pm
Event location :
Perth ON
Contact :
Phone contact : 1-705-748-OFAH (6324)
Website : http://www.ontariofamilyfishing.com/
Or www.familyfishingweekend.com
………………………………………………………………………………………
Fire and Ice Winter Festival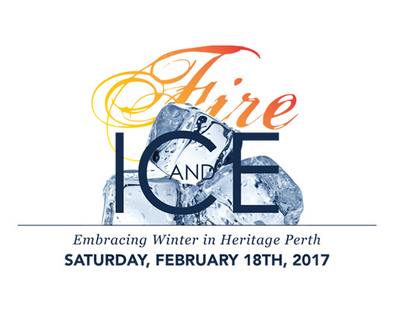 The 3rd annual FIRE & ICE evening event takes place at the Crystal Palace, in Downtown Heritage Perth, on Saturday, February 18th, 2017, with the dance beginning at 7pm. An ice bar, an evening of dancing with the Riq Turner Band, a fire dance performance, bonfire, and beautiful fireworks over the Tay Basin! Come celebrate winter in our heritage town!
Fire & Ice 2017 is a winter celebration organized by Perth Tourism and held in downtown heritage Perth with both daytime and nighttime activities.
The daytime activities
During the day there will be free swimming at the Perth Pool from 1:00-3:00 and free skating at the Perth Arena from 6:00-8:00. Participants are also encouraged to check out Perth Outfitters Outdoor Wooded Skate Trail www.perthoutfitters.com. The daytime activities will be held at the Perth Pool (3 Sunset Blvd) and at the Perth & District Community Centre (2 Beckwith St E). Perth Outfitters is located at 21 Craig St.
The nightime activities
The doors open at 7:00 pm and the evening features entertainers, dancing, food and beverages, a bonfire, and a fireworks show.
The event is held at the Crystal Palace (31 Basin Lane) in downtown Perth. The music and dancing takes place inside the palace and the bonfire, Fire Weavers performance, and fireworks show will be held outside.
The Riq Turner band will finish their second set at 11:30 pm. The event winds down around midnight.
Date :
Saturday, Feb 18, 2017
Contact : Karen Rennie
Phone contact : 613-267-1947
Email : krennie@perth.ca
Website : http://www.perth.ca/en/explore-perth/fire-and-ice.aspx
………………………………………………………………………………………
Perth's Annual Parkside Wedding Show

The Annual Parkside Wedding Show will be taking place on Sunday February 26th, 2017 from 12 noon until 4:00 pm at the Best Western Plus Perth Parkside Inn & Spa.
Catch up on the latest wedding trends, meet with leading wedding experts and vendors, who can help you plan your happily ever after!
Contests, prizes, food and beverage available, bridal fashion show, premier "man cave," and swag bags. Tickets are limited – get yours soon! First 50 guests will recieve a swag bag! All Brides will be entered to WIN a GRAND PRIZE!!!
Experince live music, many fantastic venders and view the Ashton Station Bridal fashion show; hair & make-up proviede by Parkside Spa & Hair Artisrty. Admission : $5.
Date :
Sunday, Feb 26, 2017 | 12 to 4 pm
Event location :
82 Peter St, Perth (Ontario) K7H1S2
Contact : Best Western Plus Perth Parkside Inn and Spa
Phone contact : 613-326-0082
………………………………………………………………………………………